Ethan Willkinson is an impressive 15-year-old teenager from Hedley, Texas.  At the age of 12, his parents witnessed a very interesting competition at the Fort Worth Stock Show.  They told Ethan about it, and soon thereafter he began competing in Cowboy Mounted Shooting, and Cowboy Mounted Rifle Shooting events.
Mounted shooting contestants are judged based on speed and accuracy. The object of the sport is to shoot 10 balloon targets while riding through a variety of challenging courses using special loaded blank cartridges fired from Old West style single-action revolvers or a rifle. Contestants as young as 12-years-old can compete, working their way up from Level 1 to Level 6.
According to the Cowboy Mounted Shooting Association, it's the fastest growing equestrian sport in the nation.  Interest in the equine competition is worldwide. "They are doing it in several other countries like Canada, France, Germany, and Japan." Ethan says proudly.
When Ethan started at the age of 12, the majority of his fellow competitors were much older than him (majority between 30 and 50 years old). Not to be deterred or intimidated, Ethan has worked very hard.  The 2015 National High Point World Champion, and Taylor's & Company High Point Rifle Champion is poised to become the youngest Level 6 competitor in the sport.
What does it take to be good at Mounted Shooting? Ethan responds, "It takes a bunch of slow work at the start, with your horse that is. You need to start slow so that the horse can get used to gun fire."  Ethan trains all of his own horses, saying he prefers to grow with his horse.  "You can mold them to your own style, and you get along with them better," he says. "I start my horses on a lunge line, or in a round pen firing around them until they get comfortable.  Then I work my way up to shooting mounted. It involves hours of practice, and many competitions to keep myself and my horse conditioned."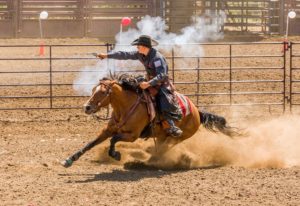 Three years ago, it all started with his main competition horse, Ginger.  Ethan had owned this senior mare for five years. She started out as his least favorite horse. "I thought she was lazy, she would always slowdown in the middle of a run," says Ethan.
By the time the team was competing in Level 3, everyone was telling the Wilkinson's that they would have to get a different horse, that Ginger was too slow and she was having problems maintaining her weight.
Then, two years ago, Bill Cornell of Cornell's Country Store recommended the Performance horse feed made by Hi-Pro Feeds. He felt that that Ginger's nutrition program was too high in protein.
Ethan decided to try the Performance feed, and saw a big difference right away.  "It turns out Ginger's problems were not laziness, but poor nutrition.  People were so impressed with the changes in Ginger.  At 20-years-old, she went from being a horse we needed to replace, to being one of the most recognized horses in the mounted shooting arena," Ethan says with a smile.
Ginger has been clocked running in competitions at 31 mph, and Ethan proudly notes, "She didn't find her speed until we started feeding the Hi-Pro Feeds product."
When asked how he handles the pressure of championship competition, Ethan notes that he gets nervous, but feels confident as well. "It's exciting to be competing there among the best, but nerve wracking, too. It's a pretty good time with quite an adrenaline rush during competitions," states Ethan.
His biggest challenge usually involves the horses, and managing their own excitement and adrenaline. Wilkinson mentions that, "Horse management is definitely a challenge.  The horses get excited for competition, really hoppy in the gate, and ready to go. After that it's all about you setting up the right shots."
Ethan is excited for this year's competitions, and ambitious.  He wants to practice more, get a few more horses ready, and go after even more major titles. Hi-Pro Feeds wishes Ethan all the best in 2016. We look forward to this 'young gun' winning many more awards with his horses.
Photo credits to Steve Sims (snuffysims).
Want to read more about Ethan Wilkinson?
Ethan Wilkinson's Journey to Level 6 and Beyond in Cowboy Mounted Shooting