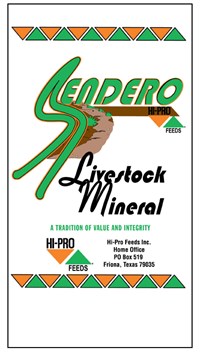 In keeping with modern research and technology in the area of mineral supplementation of
ruminants, Hi-Pro Feeds Sendero Sheep Mineral incorporates the most current findings in
delivery and utilization of minerals in sheep. This mineral provides a combination of macro- and
trace-minerals to deliver the optimum amount of nutrient availability. Using organic,
hydroxychloride, and inorganic forms of zinc and manganese, the Sendero
Sheep Mineral provides an increased amount of availability of these minerals. In addition, an
organic form of selenium is included that has a positive impact on the health of the immune
system.
Click here for a downloadable PDF feed tag.
Calcium (min)

14.5%

Copper (min)

3.0 ppm

Calcium (max)

17.5%

Copper (max)

15.0 ppm

Phosphorus

7.0%

Selenium

20 ppm

Salt (min)

21.0%

Zinc

4,500 ppm

Salt (max)

26.0%

Vitamin A

99,000 IU/lb.

Magnesium (min)

4.0%

Vitamin D

19,000 IU/lb.

Sulfur (min)
1.5%

Vitamin E

100.0 IU/lb.

Manganese (min)

2,000ppm
Feed as a mineral to sheep on native or improved pastures when mineral nutrient levels in the forages are very low. Consumption should be from 1 to 1.5 ounces (0.06 to 0.09 lb.) per head per day. For best results, keep in a covered trough that protects it from the environment.
Hill Country in Comanche, TX
Friona, TX
Ready to make Hi-Pro work for you? We're glad to hear it.