Road to the WNFR
Over the course of 2015, a young woman from Abilene, TX, Jackie Ganter tenaciously pursued a life-long dream. She drove thousands of miles, hauling horses, tack and feed, in order to compete in 100 rodeos all across North America. Her goal was simple, qualify for the Wrangler National Finals Rodeo and win the WPRA Rookie-of-the-Year.
Though a daunting, and difficult, task, Jackie's love of horses and the sport of barrel racing weren't the only things driving her. A dogged determination to never give up spurred her on, even through the toughest days. "This year there were so many times that I could have given up and come home. There were times when it looked next to impossible to qualify for the WNFR. I would be so far out of the top 15," states Jackie.
Jackie had continued support from her mother, Angela, and her sponsors, including Hi-Pro Feeds.  "It's a hard road, so often the horses get tired, drop weight and don't want to work for you. If they don't feel their best, they aren't going to run their best, and you're not going to win," mentions Ganter.
"My barrel horses really love to eat the Performance feed by Hi-Pro Equine Feeds. I never have troubles with them going off of their feed on the road. They keep their weight on, and they looked good all year long," articulates Jackie. "Having a feed that keeps them looking and feeling good is absolutely crucial for your horses. I definitely think the Hi-Pro horse feed is one of the reasons I made the finals because it kept my horses at the top of their game."
Running down the tunnel at the WNFR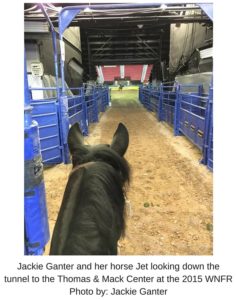 Jackie's hard work and commitment paid off qualifying for the WNFR in Las Vegas at the beginning of December. Typically the Rookie-of-the-Year title is won earlier in the season, but this year, there were 2 ladies still competing for the title during the 10 days of rodeo. The 60-year-old rookie, Vickie Carter made it an exciting and competitive race right until the last round.
"The day before the WNFR started, we went to practice in the Thomas & Mack Center. It was the first time I was going to ride down the tunnel. It was something that I had envisioned for a very long time. You see the walls, and the gate, and it was the most unbelievable feeling," bursts Jackie.  "I couldn't believe I was in the alley that I'd always seen on TV.  I got choked up! To be sitting there on my horse was incredible. I took out my phone and started taking pictures. Sherry Cervi was nearby, and I told her that she just had to let me be a rookie for a moment. It was a moment I wanted to treasure!"
When asked how she managed not to be overwhelmed during her runs, Jackie talks about the tricks she's learned over her years of competition experience.  "When I went to make my runs at the WNFR, I honestly worked on getting my mind set on the fact that it's just another run. It's no different from any other. You can't think about the money or where you are, or who is watching.  It's just another run.  I put that in my head so much throughout the year, that I actually did pretty well not getting nervous for my runs at the WNFR.  I was focused and went through everything in my head that I go through before I run. It's part of my routine," says Ganter.
A horse with a heart of gold
Jackie also touches on the difference a truly great horse can make.  She says that she never really got nervous before she ran during the WNFR, and a lot of that had to do with her horse, Guys French Jet.  "He's so trustworthy and dependable that I didn't have to worry about him, and could concentrate on myself.  He's so calm, and one of the most honest barrel horses there is," reveals Ganter.
Each rodeo arena is unique, and the Thomas & Mack Center presented its own set of challenges for the barrel pattern. "The biggest test was definitely coming out of the tunnel and getting to that first barrel. Jet usually does better when he can see the barrel.  There was one night I rimmed it. I took off from the gate and started checking him when I got even with the bucking shoots. That's how quick it is, and I got a little close," laughs Jackie. "It's so funny, there's a picture of me standing up in the stirrups and my right foot is over the back of my saddle to keep from hitting it, and my hand is up between his ears.  I was doing everything I could to stay off of it."
Meeting rodeo fans
The WNFR is an extensive event that keeps rodeo contestants busy both inside the arena, and at other sanctioned events. Jackie participated in autograph signings, a Q & A session with fellow barrel racers, Callie Duperier and Jana Bean on the Alexis Bloomer Live Show, and participated in the Justin Cowboy Crisis Fund (JCCF) fashion show.  In spite of the extra hours, she speaks of the events with nothing but gratitude and excitement. "It was pretty neat, because you got to talk to, and meet people and hear about how they've watched and supported you.  People I didn't even know were out there who kept up with me. They knew me and my horses.  It was really great to meet those people, and interact with them," remarks Jackie.
Do the impossible 
After a year full of highs and lows, new friends, and exhausting travel, Jackie knows without a doubt it was all worth it.  "It's been a dream of mine forever to run down thatalley. It was everything I've ever wanted. To run ten clean rounds at the WNFR and be 2nd in the average, capture the Rookie-of-the-Year title, and end up 8th in the world, it was great!  The most incredible part was when I turned the third barrel in the tenth round.  I knew it was over, and I had rookie won and it was just unreal," she laughs. "There's a picture of me running home, and I'm smiling ear to ear. It's so funny.  It was probably one of the highest highs of my entire life. Everything I've ever wanted was accomplished, it was so crazy."
Jackie Ganter, an already accomplished young lady isn't stopping there.  She'll be competing in Odessa, Texas on January 15th, and will continue on from there to bigger and better things in 2016.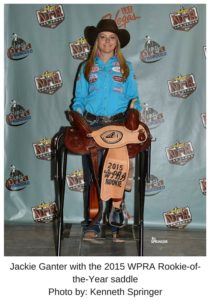 "I signed all my autograph sheets. 'Do the impossible' which was the saying I went by because people said it would be impossible for me to make it to the WNFR and win the Rookie-of-the-Year in 2015. And I did it. I kept going even when it seemed impossible," exclaims Ganter.
Congratulations to Jackie Ganter. Hi-Pro Feeds is so proud to produce high quality horse feeds that help Jackie's horses be at their best when they are running in the rodeo arena.
We can't wait to see Jackie's next 'impossible' accomplishment in 2016.
Want to read more about Jackie Ganter?
Classic Gold Connects with a Classy Lady, Jackie Ganter
Jackie Ganter's Pursuit of Making Dreams Come True
Jackie Ganter looks to cap successful 2016 season with a strong showing at the 2016 Wrangler National Finals Rodeo