Collin Welper, 15 years old from Shallowater, TX, is quite accomplished for a youth his age. In 2015, Collin won best in his class at the Fort Worth Stock Show and Rodeo. The following year, he won best in Middle Class Hereford at Fort Worth. "I was ecstatic. Especially since I had won the year before, I couldn't believe it," says Collin.
Showing since he was in the 3rd grade, Collin Welper is a stock show veteran having shown pigs, goats, heifers and steers. It's a strong family tradition. His mother, father, and grandfather all showed in their youth. Collin states, "I wanted to keep the tradition going."
For the Welper family, raising show animals involves the entire family with his mom, dad, and brother all lending a hand to help him learn best practices for raising a winning project. "He's the kind of kid that loves it. He eats, sleeps and breathes showing," says his mother, Debbie. "The experience for him has been so rewarding. It's been amazing to watch his growth from when he first started. He's gained a lot of self-assurance, and his work ethic has developed. He's matured. He loves the livestock industry, and knows that's what he wants his future to be in."
Collin's winning formula is consistency of care, and feeding the Hi-Pro Feeds Beef Show Rations to his beef companions. "It's really challenging to keep the schedule the same, but it pays off in the ring," he explains.
"We chose Hi-Pro Feeds based on a recommendation from our vet," says Debbie. "The feed is high quality, and has a good reputation. It's always very consistent from bag to bag, and year to year. We've had great success with it at home. Our calves gain really well on it."
Collin agrees, "I think it's really consistent on how there's not too much corn or cotton in it. It's just right. They really like the taste of it, and they gain a lot from week to week."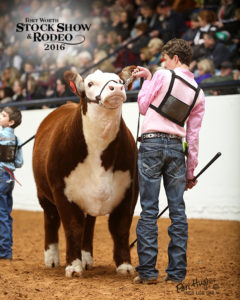 Once the hard work of raising, grooming, and exercising day in and day out is done, Welper finally gets to experience his favorite part, the show ring. "I get really nervous,especially at Fort Worth where everyone is watching you. That's where the rush comes in. You kind of just know what to do. It's hard to explain, but it's really cool. Now that I've won my class it has given me more drive to get back to that position, to get better every year," he mentions energetically.
For Collin Welper, showing isn't just an after school extracurricular activity. It has shaped him as a person, and has made him aware of what his true passion is. "I'm going to get a degree in agribusiness," he says confidently. "I want to raise club calves with my brother once I graduate and keep the family traditions going."
This exceptional young man is competing again this year, and has already won the Class 2 Polled Herefords at the Sand Hills Stock Show and Rodeo. We look forward to watching Collin continue to excel both in and outside of the show ring for many years to come.
Click here for more information on the US Hi-Pro Feeds Beef Show Rations.