Today let's look at the latest data on U.S. beef in cold storage and placements into feedlots. What's it telling us about the process of herd expansion, and how well the market is coping with increased supplies?
In some ways, the latest USDA cattle report released July 22 was a letdown. It was a regular monthly report. The traditional July semi-annual inventory report was a victim of budget cuts. Too bad the only thing the folks in Washington agreed on was cutting something useful – updated number of beef cows, the calf crop and heifers retained for breeding. Now we'll need to wait until January 2017 for that.
What did we get? Some valuable tidbits. For those who missed it, the monthly report hinted that more females are finding their way to feedlots. The percentage of heifers in the cattle on feed number climbed to 33.7%. That was up from just under 31% a year ago when cattlemen were going all out to expand their herd. Although the number of heifers being placed is still lower than normal, it's creeping up. This suggests overall expansion of US cattle numbers should start to moderate.
In addition, placements during June were pegged at 1.53 million. That's up "just" 3% from last year's very low level. Trade guesses were higher, with an average hike of 6% expected. This tells me that even with lower feeder cattle prices and somewhat more heifers being sold rather than retained for breeding, feedlotters remain cautious. Volatile and generally downtrodden live cattle futures will do that to you!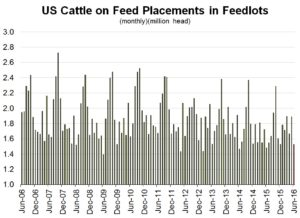 Meanwhile, a separate U.S. cold storage report released July 22 suggested that beef supplies aren't burdensome.
As the end of June, total beef in cold storage was pegged at 451.2 million pounds. That's down almost 5% from the same month last year. And while beef stocks were up slightly from the previous month, the increase was smaller than you might expect based on a more than 5% increase in U.S. beef output during the second quarter of 2016, according to USDA data.
Idea: It's possible the increase in stocks during the month of June is a sign preparations are being made for an increased fall export program. We'll need to see what happens with stocks (and exports) over the next couple of months before drawing that conclusion.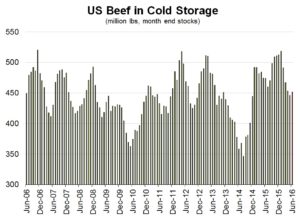 My take is that lower prices are doing their job of encouraging beef consumption. This is important given that overall supplies of red meat and poultry are still growing.
Pulling the latest USDA numbers together, there is no question that herd expansion is continuing and augurs for rising supplies of cattle on feed in the future, and more beef. However, recent market volatility combined with high levels of negativity in the industry should limit additional expansion in beef output over the next few months. This is encouraging, particularly with the market already doing a good job of keeping up with production and preventing stocks in cold storage from becoming excessive.
By Ranulf Glanville, DePutter Publishing Ltd: It's my pleasure to step in today in place of John DePutter and Dave Milne. Don't worry, we haven't put them out to pasture. They are just taking a well-deserved break.
Brought to you in partnership by: