In some ways, the latest USDA cattle inventory – construed by many as bearish for the market – did contain some generally positive news for the U.S.
For example, the growth in the American herd would seem to indicate the end of a multi-year drought on the southern Plains that burned up pastures and forced many producers to sell off their herds due to a lack of feed. That's good news for people farming and ranching in the affected areas.
It also speaks to the strong prices and good times in the beef business of the past. There were enough good times to motivate ranchers to go into expansion mode again.
That certainly beats the gloom and negativity that forced the American herd to a 63-year low just a couple of years earlier.
There's obviously a price to be paid for increasing cattle numbers too, as producers well know. But for all the bearish press the inventory report is getting, the reality is the herd rebuilding process now underway is still going to be a lengthy one and opportunities for profit are going to remain in the interim.
For those who missed it, the Jan. 29 inventory report pegged the total number of cattle and calves on American farms as of Jan. 1, 2016 at 92 million head, up 3% from a year earlier and the highest since about 93 million in 2011. The 4% increase from a year earlier also exceeded the 2% hike expected by analysts.
Inventory reports of this type offer important insight into the long-term trends and cycles. They are more important than the monthly cattle on feed reports, which can be skewed by short-term market factors. So one can't ignore the fact U.S. cattle numbers are still not heavy on historical basis (as shown below), even with the inventory report clearly showing some sharp increases in numbers and expansion.
One important aspect to note is the USDA did amend its cattle numbers for the previous two years. The Jan. 1, 2015 inventory was actually revised down by 657,000 head, meaning this year's increase in the total inventory was not as big as it might have seemed. In fact without the change in last year's number, this year's total cattle numbers would have been up a more modest 2.4% and closer to some analysts' expectations.
So what does it all mean?
For now, one main message is that the U.S. cow factory is being rebuilt but it's a slow process. The U.S. is trending towards greater beef production, but only gradually.
Indeed, it's still not going to be easy to find lighter animals to put on pasture. The 2015 calf crop was pegged at 34.3 million. That was up 2.3% from last year but is still one of the smallest since the 1940s (see chart below). The strong U.S. dollar will help pull in calves from Mexico and Western Canada but there are limits to how long that can continue.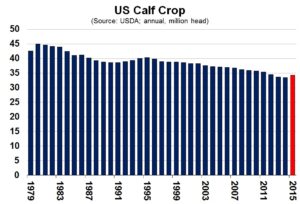 Meanwhile, the number of beef replacement heifers at 6.29 million as of Jan. 1 was up 3.3% from a year earlier, but about as expected by analysts. The total number of beef cows, at 30.3 million was up 4% from a year ago but also low compared to previous years.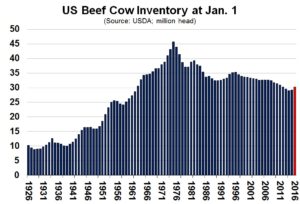 Admittedly, the number of beef heifers expected to calve in 2016 was up a strong 5.7%, suggesting cattlemen were not as spooked by the drop in cattle prices in the fall of 2015 as some had believed.
Putting the numbers together, there is absolutely no question that herd expansion points to rising supplies of cattle on feed in the future, and more beef. But total beef output in 2017, although up from the previous two years, is still expected to fall slightly below what was produced in 2013, according to data from the Livestock Marketing Information Center.
And remember, those extra females being held for breeding aren't available for slaughter. That means fewer heifers and cows in the slaughter line this year, than would be the case in the event of less expansion or no expansion.
Consider this: A variety of commodities have fallen to the financial crisis lows of 2008/09. Look at oil, look at some of the grain markets. Live and feeder cattle are still far above those lows. Will they be the next domino to fall?
Someday, maybe they'll get down there. Risk of it within the next four to six years. But to get down that low, live futures would need to fall from their current area of US$135 to $80. Feeders would have to plunge from their current $158 to less than $90 to make it happen. For their part, the supply-side stats in the USDA report do not provide a clear fundamental force to make that happen within the next two or three years.
The expansion of the herd is not significant enough, the expansion phase has not had time to produce that bearish an outcome… not yet anyway.
Macro view: Herd expansion equals more beef down the road. More beef means lower prices. Good news is, the shift is gradual.
By John DePutter & Dave Milne, DePutter Publishing Ltd.
Browse our beef products here.
Brought to you in partnership by: