Raising a show calf for the show ring is a long, time-consuming project involving many hours of feeding, grooming, exercising, and halter training. Every aspect of the project is vital to having success in the ring. "It's important to select quality livestock and maintain consistent nutrition, health, and daily care. Start with a good one and maximize its potential," says Jake Franke of Franke Cattle Enterprises, which focuses on the production of show steers and replacement-bred heifers. Mr. Franke showed his first steer at age of 7, and has 27 years' experience with show cattle.
Hi-Pro Feeds asked Jake for his top 5 tips for choosing a show calf.
1.       Choose your breed
Things have gotten so competitive that all breeds are tough, so you have to pick your battles on what breed you want your son or daughter to be competing with. You want to take into account the age and experience of the young person showing. What size of a steer do we want to end up with when we compete at the major shows? A younger person who is smaller and inexperienced would probably need a gentle calf that matches the size of the showman to enable it to be properly exhibited.
2.       Make a thorough visual appraisal
It's important to make sure that we're getting as complete a steer or heifer, and as fault-free a project as we can. No glaring issues or problems because those are multiplied as we put weight, muscle, fat, and bone development on them. Start with a complete fault-free project. Look at the basic build of that steer or heifer (structural correctness, square-ness, balance, body depth).  For steers, you also want to look at power and musculature, the ability to lay on fat. These traits translate to potential carcass merit. With heifers you want to consider their body volume, rib shape, and chest width. This correlates to their ability to be functional through maturity in reproduction.
3.       Don't weigh one trait too heavily
Some people have a mindset that leans toward single trait selection. Some like their cattle real attractive, and that can lead to overlooking other traits like muscle. Some like the powerful and stout look, but that can lead to an animal that isn't as smooth and attractive and sound. So it's important to maintain a balanced fault-free mindset when looking. People have to be really objective when they look at a steer or heifer, and not let their own pet peeves get in the way because one thing is different from what they think is ideal.
4.       Consider genetics on both sides of the lineage
A lot of people key in on who the calf is sired by these days, and overlook the cow family. The genetic potential is 50/50, so it's important to take both into account when you're making a decision. When you go back through the pedigree, the information can give you more predictability for how that animal will grow, develop, and finish out.
5.       The calf is only one piece of a successful project
The foundation to any beef show project is a really good calf. We also have to be 100 percent consistent on how we feed, take care of their heath, their hair and hide quality. If you neglect one of those things, it won't matter how good the calf is at the beginning. Start to finish, the entire process has to be consistent. We have to do our job with nutrition, health, and daily management.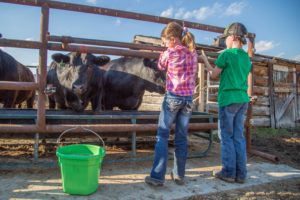 In the end, Mr. Franke emphasizes that winning isn't everything. He concludes, "Sometimes we neglect the development of our youth over the importance of the livestock project. We all want to be competitive, and win. I think that 'competitive spirit' is a great thing to teach young people. We have to do our part as parents and mentors of these kids, and also teach them work ethic in the form of responsibility, time management, and organization. Those skills teach young people how to be successful in the real world, so when they're done showing, they've learned these life lessons that will help them be successful."
Thanks to Jake Franke for taking the time to share his knowledge. For more information on Franke Cattle Enterprises contact Jake Franke at 806-683-3285.
For more information on our Show Feeds, click here.