Heather Taylor has a lifetime of experience with horses. "It's in my blood." She says "I think I'll always be working with horses. I've been hooked since the fifth grade."
What inspired Chance to make the switch from motocross, to horse shows? His son, Corbyn, who is ten years old. "Heather was talking about getting Corbyn to show. We got to talking about how neat it would be to do it as a family thing, with all three of us showing." Chance says. "Now, the whole family hits the road. We're all in the warm up ring together, passing around our 15-month-old, Cameron, while we get ready."
With Heather as head coach, both Corbyn and his dad have learned alongside each other, and competed very well. Their many accomplishments include Corbyn winning World Champion at Pinto World, as well as Circuit Champion in Youth at Amarillo, and Grand Champion at State. Chance was Reserve champion in Amateur and also Circuit Champion in Amarillo and has also qualified for the AQHA Worlds, Level 2 in Open, and Level 2 and 3 in Amateur.
The experience of showing is about more than just accolades for the Taylor family. "I like to see how good Corbyn does." Chance says "I'd rather my kids do better than I did. And to see the joy on Heather and Corbyn's faces when we do well, that makes me really happy."
Corbyn loves the adventure of it. "Standing next to the biggest horse is a cool feeling. You meet so many people…I just love everythin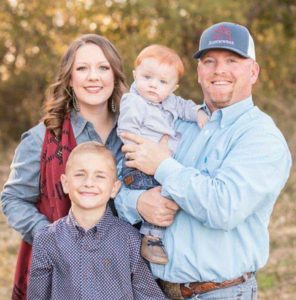 g!" he says "I do get nervous, but my mom gives me a pep talk. She says do your best, it doesn't matter if you win or lose, just do your best. That always helps me feel better."
"I don't get nervous at all." laughs Chance, "My wife says I went from one extreme to the other, going from motocross to horses. Though it was a challenge getting used to riding something that has its own mind. I could just shut off a four-wheeler. Horses take a little more work."
That work involves three or four practices a week. In the beginning, the Taylors would practice every evening under the watchful eye of Heather. "She has so much experience, we really relied on her to show us the ropes, and make sure we were getting it right." Chance says.
Recently, Hi-Pro Feeds has been incorporated into the family show routine. "We saw that Hi-Pro was offering a scholarship, so we started feeding the Performance Feed in order to get Corbyn qualified. Pretty much right away we noticed his horse doing a lot better than what we were feeding prior. His hair coat slicked off, and he filled out a lot."
Corbyn won a scholarship at the Texas State 4-H Horse Show with his gelding, Gotta Lasting Secret, and says he hopes to use it to attend Texas A&M University and become an Equine Veterinarian. As for the immediate future, Corbyn is looking to ride next year. "Riding is definitely another thing I'd like to do. It looks like a lot of fun!" he says.
"In future, I want to get into more ranch riding and reining." says Chance, "Every time I talk about it, Heather just smiles. She sees I've gotten hooked, and she loves it."
Heather, on the other hand, has found a passion for coaching. "I really love helping others and seeing them do well. I'm even trying to recruit my father-in-law to show with us."
Chance chuckles "He keeps joking around about it, and Heather is about to just enter him."
Both Heather and Chance look forward to their youngest getting old enough to start showing as well. "Cameron is already into the horses, even just as a baby. I'm sure he'll fall right in with us." Chance says proudly.
The Taylors are an accomplished and hard-working family. Hi-Pro Feeds is proud to support their endeavors, and wish them luck in future.