On October 18, over 700 people gathered at Wildcat Dairy for the 8th consecutive Southwest Dairy Days. A large tent was erected near the new barn where fifty-seven exhibitors set up tables for demonstrations and hand out information on their products and services. In addition to the exhibitors, dairy producers from all over attended. The event was free, and open to the public, so that members of the community could stop by and learn about where their milk comes from. The entire Volleman Family, Mr. and Mrs. Frank and Annette Volleman, along with all  four sons, hosted the event and conducted in-depth tours of the dairy facilities for anyone who wanted to see it. "A lot of people attend every year," says Dr. Jordan "It's partially social, and partially educational. I think that's what a lot of people like about it."
As in previous years, the event included a lunch provided by Hi-Pro Feeds. Employees from both the Friona and Comanche offices brought in three large cookers on trailers and served up over 400 fresh steaks, along with salad, rolls, and potato salad. "I'm always grateful to Hi-Pro for handling the meal." Dairy Days organizer Dr. Ellen Jordan says "It's so nice not to have to worry about how to feed everyone!"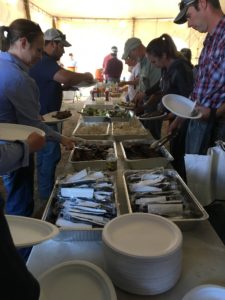 Southwest Dairy Days is a project of the Texas A&M Agri-Life Extension Service, headed by Dr. Jordan. Every year, she chooses a southwest dairy that has an innovative approach that she thinks other producers can benefit from learning about. In addition to partnering with the dairy to host Southwest Dairy Days, Dr. Jordan and her colleagues conduct research and gather data on their innovation, in order to study its effectiveness.  When asked what keeps her excited about holding Southwest Dairy Days every year, Dr. Jordan says "I like the challenge of finding something new and working to evaluate it." This year, she chose Wildcat Dairy for their recently built state-of-the-art cross-ventilation barn.
The barn stands at 1300 feet long and 360 feet wide, and has room to comfortably house 4,200 dairy cows. Large fans are installed all along the walls on both sides. The fans run on temperature sensors which ensure they shut off and start up in increments, maintaining the proper temperature inside the barn during all seasons of the year. They blow air into the barn, that then hits canvas baffles that hang from the roof. As the air is redirected under the baffles, its speed increases and cools the cows on the other side. Additional cooling is provided by high pressure misters. They spray a fine mist into the air and are also operated by temperature sensors. Each mister is able to lower the overall barn temperature by five degrees. With three in operation, Wildcat Dairy is able to lower the temperature as much as fifteen degrees compared to the outside. While definitely cool, the mister system causes the humidity in the barn to be higher than the outdoors. This is why, on especially humid days, soakers are used instead of the misters help cool down the cattle.
Dr. Jordan joined forces with Dr. Barbara Jones, Director of the Southwest Regional Dairy Center, to conduct research on this innovative and fascinating barn system. They spent many weeks gathering data on pen temperature and humidity both inside and outside the barn, as well as cow temperature. They hope to release their findings this winter.
In addition to the barn, the Wildcat Dairy has a 72 stall rotary parlor where 400 cows per hour are milked by 5 employees. Six truckloads holding nearly 35,000 gallons of milk are shipped daily. The cows are milked and fed twice per day. The Vollemans also make use of many conservation practices, including mulching the manure to fertilize their crops, and capturing farm runoff to use in irrigation.
Hi-Pro is proud to provide feed and nutrition expertise for such an innovative and productive dairy, as well as providing the Southwest Dairy Days meal for producers, exhibitors and the community.
For more information, or to attend the next event, click here.