By John DePutter & Dave Milne, DePutter Publishing Ltd.
Around this time a year ago, we predicted better times ahead for cattle producers in 2017 – especially in the wake of the painful declines through 2015 and most of 2016.
And as the table here shows, cattle prices are indeed finishing up the year higher than where they started. Of course, markets still remain far below their 2014 peaks but no one was expecting another repeat of those boom times. Indeed, it may be decades before such highs are revisited again.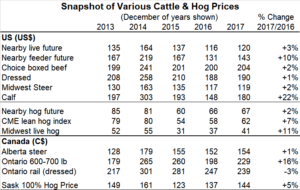 But regardless of how modest this year's gains may have been in comparison to previous years, it is perhaps remarkable that prices moved higher at all, given the upward trend in overall meat production. Suppose you were looking ahead at 2017. And suppose you knew US red meat production would be up about 4% from a year earlier. Would you have thought prices would be up? Probably not.
After all, one of the basic tenants of supply and demand dictates that when supplies are plentiful, prices are typically lower. But thanks to strong demand, here we are anyway.
Demand must keep pace with rising meat production
According to the latest estimates from the USDA, total U.S. commercial beef production in 2017 will amount to 26.3 billion lbs, up from 25.22 billion in 2016. And for 2018, production is forecast to hit 27.59 billion lbs, an increase of nearly 5%. With American pork output also trending higher, total red meat production in the New Year is now projected to hit 54.72 billion lbs, up just over 5%. Add in poultry, and overall U.S. meat supplies in 2018 are estimated at 103.57 billion lbs, an increase of 3.4% from 2017 and 6% above 2016.
So, with beef and other meat supplies still trending higher, it remains incumbent on demand to remain strong enough in the New Year to continue to carry the mail.
On the export front, the outlook seems promising enough. The latest numbers released earlier this month by the USDA put American beef exports for October at 111,287 tonnes, up 5% from the same month last year. For January through October, exports totaled 1.038 million tonnes, up 9% year-over-year.
Although shipments to Japan have led the way so far this year, it is important to note that 2018 will represent the first full year of U.S. beef access to China after a 14-year hiatus. Since the mid-June market reopening, U.S. beef exports to China have totaled a modest 1,570 tonnes, valued at US$17.2 million. However, the U.S. Meat Export Federation still maintains the Chinese market holds "exciting potential."
On the home front, beef appears to be back in vogue. Following a decade during which American beef consumption fell 15%, USDA statistics show that per capita beef consumption in 2016 amounted to 55.6 lbs, up from 54 lbs in 2015. For 2017, the USDA is projecting beef consumption even higher still, at 57.3 lbs per person, and at 59.2 lbs in 2018.
Meanwhile, with the 2008 recession getting further and further in the rearview mirror, U.S. economic indicators are generally positive. On Dec. 21, the (U.S.) Conference Board reported that its leading economic index climbed by a larger-than-expected 0.4% in November, after jumping by 1.2% in October. The numbers suggest "solid economic growth" will continue into early 2018, putting consumers in a good place to continue their beef buying ways.
Demand picture bright but beware
Solid domestic demand for red meat (reflected by the ability to consume more at steady to higher prices) is helping to support prices. A solid U.S. export pace is helping too.
Can this continue in 2018? It might, but people in the livestock business are advised to proceed with a full awareness that the production trend remains up. Any hiccup in demand could be devastating.
Brought to you in partnership by: