It's not often that you see a friendship continue through a lifetime, especially when your best friend is also your business partner. Meet Timmy Snider and John Harshbarger, owners of Ranchers Supply in Amarillo, Texas, and living proof that when it works, it's something very special.
"John and I have been friends since we were kids. We went to college together, and now we're running a business that seems to work for us and the people we serve,"  mentions Timmy Snider.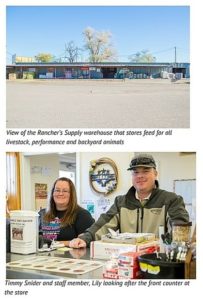 The store supplies customers across the Texas Panhandle with quality livestock feeds, hay, animal health products, feeders, panels, equipment, farrier, pet and garden  supplies. Timmy goes on to say that, "John and I bought this business in October, 2000. We sold feed, hay and horse shoes mostly. The business was originally started in 1961, and John had been working at Ranchers Farm and Supply since 1994. It just seemed right to take the risk and buy it, together."
All of their hard work has paid off over the years as they have seen more and more traffic to their store just north of Amarillo. In 2011, increased customer demand led to building a new store. The 6,000 ft2 building was finished in July. Along with the main store they also have 4,800 ft2 of warehouse space, and 2 additional barns to store hay and other feed products.
In June, 2015 another Ranchers Supply location was added to the family at Hereford, Texas. The store offers a diverse mix of products, feed and ag supplies for their  customers in that area saving them a drive to Amarillo.
Secrets to Success
When asked about how they have been able to remain competitive in the market with other Big Box stores," Timmy shrugs modestly, "We care about our customers, and offer them a wide variety of products. They   don't need to go anywhere else to shop. We bring in seasonal products like bedding plants, feed for performance animals and backyard pets, and bring in chicks and ducks in   the spring. When it comes to equipment, the Branson tractor line-up is very high quality, and comes with twice the warranty of other competitors."
People come from all over to shop at Rancher's Supply, and regulars as far as 90 miles away. Typically the store sees about 150 customers each day. The team of 15 employees will accommodate and service every customer, regularly receiving glowing reviews on their Facebook page. They will even deliver on larger feed and hay orders.
A Farrier's Version of Costco
Another unique differentiator of this business is the endless stock of farrier supplies, horseshoes, and tools that are available through Ranchers Supply. This is where John Harshbarger lights up, "When I started working at the store in 1994, we started carrying farrier supplies. We were running a small mail order service for specialty farrier items, and it just grew from there. In 2005, we started the Well-Shod website with a $10 flat rate shipping fee."
The farrier supplies part of the business outgrew the Ranchers Supply location, and again it was time for Timmy and John to expand. They moved Well-Shod into a 12,000 ft2 building near downtown Amarillo in July, 2015. John now looks after this part of the business along with 6 more employees.
"We import many products from Europe for our customers, mostly from London and Italy, mentions John. "Well-Shod offers the largest product selection of farrier supplies in North America, and provides the customer service of a family-owned business. That';s hard to find in today's world, and we constantly strive to continue to operate in this way."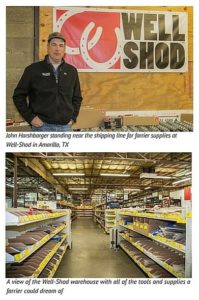 With the larger warehouse space, the team can fulfill more orders each day that come in via the website. They have a large selection of inventory in the store which services the local Amarillo area also. Not only do they have the tools and products to supply the farrier industry, Well-Shod has also taken the lead on providing educational videos for their audience to help them with their trade.
"Farrier technology is changing all of the time, and we offer both educational videos and in-person clinics for our customers to attend," says Harshbarger. "We partner with our vendors to provide farriers with the best information possible to help them deliver the best results they can to horses and clients. We take a lot of pride in delivering this type of value-added information."
Stronger Together
Together, Timmy and John have worked hard over the years to maintain their life-long friendship while dealing with the challenges of business. When asked about how they make it work, John smiles and whole-heartedly replies, "Good communication, and an understanding of the different strengths that each of us brings to the business."
One thing is for sure, Rancher's Supply is a leading supplier of all things needed by the livestock producer, backyard hobbyist, elite horse trainer and farrier. Horse shoes are a sign of luck, but there is no luck here. These two men have worked hard and treat people with respect. Together, their desire to make a  difference easily shows to the customers they look after. Hi-Pro Feeds is proud to have them on-board as a  feed dealer.
Next time you are through Amarillo or Hereford, make sure you stop in and say hi to these gentlemen. They will be sure to help you out, and share a few good stories.
Ranchers Supply – Amarillo

8048 River Road

Amarillo, TX

806-383-2181

Ranchers Supply – Hereford

3633 US Highway 385

Hereford, TX

806-363-6520

Well-Shod

305 N Arthur St

Amarillo, TX

806-322-3680