By John DePutter & Dave Milne, DePutter Publishing Ltd.
As we enter the New Year, it is a good time to look forward and consider what might lie ahead and how it may impact market prices.
Futures could dip, October lows should hold
After touching six-month highs heading into the Christmas holidays, conventional wisdom would suggest cattle futures are now becoming increasingly vulnerable to a setback.
Any potential declines – which could see the market retrace a large portion of its gains from the October low – would not be a big surprise; just as the recent rally following the deep plunge through the first three quarters of 2016 was not terribly shocking either. Such is the normal ebb and flow of commodity markets. However, the market is not likely to fall below its October low.
Of course, the longer-term direction of the market will depend on how a variety of factors play out, including how U.S. producers react to continued unfriendly market conditions after seeing record prices just a couple of years ago.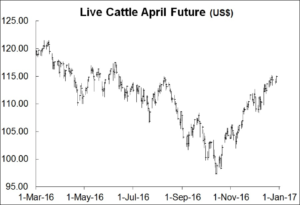 Pace of expansion should be moderating
On Jan. 31, the USDA will release its latest cattle inventory report. That report will estimate the total number of cattle in the benchmark U.S. market as of Jan. 1 and could contain the first concrete evidence that American producers are easing off on the expansion gas pedal after some aggressive herd rebuilding the previous year.
As most producers likely know, American cattle numbers hit their lowest in 63 years at the end of 2013, the culmination of weak market prices, skyrocketing feedgrain values and a multi-year southern Plains drought that ravaged pastures. By the beginning of 2015, however, cattle numbers were up 1.4% from a year earlier, surprising analysts who were actually expecting a slight decline.
Beef cow numbers showed the sharpest gains in the 2015 inventory report, up 2% or 610,000 head from the previous year, while the number of beef replacement cows jumped over 4%.
Given that it is common for the American beef herd to be in expansion mode for anywhere from four to six years at a time, it remains likely that next month's inventory report will show continued gains in the size of the American herd. However, it will be interesting to see just how much, if any, U.S. producers have throttled back in response to generally lower prices.
Breaking news! A USDA cattle on feed report released Dec. 23 showed November feedlot placements 15% above the year-ago level, topping trade ideas of a 13% increase and perhaps an early indication that producers are sending more heifers to market, rather than holding them back for breeding.
Keep an eye on competing meats
It's no secret beef is competing in a crowded protein market. Much lower feedgrain prices have pushed pork and chicken production higher as well, giving consumers a cheaper alternative to beef.
To that end, the latest quarterly USDA hogs and pigs report (also released Dec. 23) pegged the total U.S. inventory as of Dec. 1 up 4% from the previous year and easily beating trade guesses that suggested a 2% increase. With U.S. pork production already running at record high levels, the report indicates that pork supplies could become particularly heavy in the spring, providing even more competition for beef. Prices could be pressured if demand doesn't keep up.
Trade and export demand
U.S. beef exports do not represent the same proportion of total production as pork (around 13% versus 25%) but shipments remain a huge market factor nonetheless.
Through October (the latest month for which statistics are available), beef export volume was up 9%, although lower prices meant the value of those shipments were down 3% to US$5.1 billion.
Going forward, export demand will be heavily influenced by the strength in the American dollar, which recently touched 14-year highs and makes it more expensive – and thus less appealing – for foreign buyers to purchase American beef.
Plenty of uncertainty also surrounds U.S. president-elect Donald Trump, who has made no secret of his disdain for some trade deals. For example, Trump has already pledged to pull out of the Trans-Pacific Partnership, a deal that would have significantly increased American market access in Japan, a billion dollar market where the U.S. is now losing business to Australia.
Closing thought
Although there are some potential clouds hanging over the cattle market moving into 2017, industry participants have a lot to be thankful for. As members of the agricultural community, it's important to remember how fortunate you are to be working in the greatest business in the world (agriculture and food), in the best part of North America (rural communities).
All the best to you and yours. We look forward to continuing to serve you via these blogs in 2017.
Brought to you in partnership by: