If you haven't heard of a young up-and-comer in the roping arena named Logan Dee Harkey, chances are you will soon. Originally from Vernon, TX, Logan is hard at work training and competing in calf and team roping. He is striving to be in the arena challenging the professionals one day soon.
His rodeo resume includes qualifying for the College National Finals Rodeo the last 2 years while studying for his Master's degree in Ag Business and Economics from West Texas A&M University in Canyon, TX. That may sound like a lot of work for such a young man, but Logan doesn't think so. "I love everything about being involved in the horse industry. I have a passion for roping in general, and training good horses. I always have, and I always will," states Logan.
Logan's relationship with Hi-Pro Feeds began several years ago, when he fed a bag of the Natural 14 pelleted feed to his horses.  "My horses really seemed to like the feed, and so I decided to keep buying it for them.  After a few weeks, I could see a noticeable change in the overall condition of my horses, and their coats.  They started looking better than ever.   They perform better on this feed than any of the others I have tried," says Logan.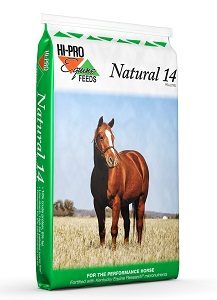 When asked about his horses, Logan is hard pressed to choose a favorite. He sees great potential in them all.  "My main horse is Twisters Play who is an 11 year old red dun gelding that I rope calves on.  He is the best calf roping horse that I have ever owned, and was named the 2014 NIRA Men's Horse of The Year.  I qualified for the college finals this year on my blue roan horse in the heading. Five is a young sorrel horse that I have been doing a lot of training on this summer, and he's showing potential to be my best rope horse yet.  Because I like a challenge, I recently purchased a paint horse that shows tremendous potential in the calf roping.  I am very excited to see how good he can get," comments Harkey.
Logan knows the importance of having the right nutrition program for his roping horses. He says, "I recommend Hi-Pro Horse Feeds to everyone.  The results speak for themselves. These horses are happy and healthy on the Natural 14 pellets, and they do their job to the highest level possible.  Every bag that I feed is consistent and fresh. I can trust that I am getting a high-quality product."
Hi-Pro Feeds is very proud to have such hard-working, talented young man as part of the team.  We wish Logan Harkey continued success in his studies, and future as a professional in the roping arena.
For more information about Natural 14 pelleted feed, click here.