Kolton "Pockets" Wink, 17, has been on horseback since he was a toddler, and approaches his training routine with the dedication and hard work of a professional twice his age. He credits this to two things – a family legacy, and incredible mentors. These tools led to winning both the 2-year-old and 3-year-old futurity at the 2020 Texas State 4-H Horse Show.
"I grew up in an equine family." He explains "My dad is a veterinarian and has shown horses all his life. My mom and brothers show horses as well. My grandfather was an Ag teacher, so showing animals is in my blood. I started riding and competing on horses when I was 2 years old and I've been competing in 4-H for about 9 years total."
Kolton describes how 4-H has influenced his life "Through 4-H I have made so many close friends, and had a lot of learning experiences in and out of the show ring. Some of my friends I only get to see a few times a year at 4-H events since we live far apart, but that doesn't change the fact we are good friends. That's what is fun about 4-H. Friendships are made to last."
However, for Kolton, horses aren't just about fun and friends…it's a way of life he hopes to continue well into the future. "I am an active member in FFA participating in Horse Judging, FFA Quiz, and a former FFA officer in my Chapter." Kolton continues "I spend most of my time working for well-known colt starter, Jeff Williams, and trainer L.J. Stovell breaking colts for various ranches and individuals. Jeff is the one who gave me the nickname "Pockets" when I started working for him at the age of 11 because I would stick my hands in my pockets when waiting on my next task. He started calling me Pockets and it's stuck ever since. I've also had the honor to work for Beggs Cattle Company and participate at the Return to The Remuda Sale in Guthrie, Texas for the last two years. Currently I am helping start a set of colts for Muleshoe Ranch who will be going to the Western Heritage Classic Sale."
The lessons learned from these great mentors has carried over into his own horse work while training for 4-H competitions. "They taught me little tricks to further better my horsemanship such as focusing on basic fundamentals. They showed how something so basic – like control of the horses' hips and shoulders – is so important when wanting to ask or perform more advanced maneuvers." He explains "They also helped me remember what kind of horse I was riding, saying things like 'It's fine she is just a 2-year-old', or 'quit riding that 4-year-old like it's a 2 year-old!'. I've been lucky to have so much help & encouragement with my horses."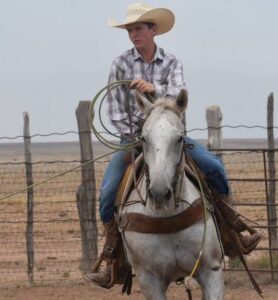 At such a young age, under the tutelage of such esteemed horsemen, Kolton has also developed a dedication as tough as a hardened professional. In order to beat the summer heat, and accommodate his summer job, he trained his horses from 3am to 6am every day. "My parents were a big influence in changing my training during summer months. Early mornings allowed me to ride and train as needed without worry about heat exhaustion. My dad showed 4-H & AQHA growing up so his previous experiences and advice over the years has been invaluable."
This advice includes a top-notch nutrition routine. Kolton says "My feeding routine has not changed since we started feeding Alfa-Pro. Alfa-Pro has kept my horses in top condition, and their high level of performance is a result of the superior nutrition they receive. We feed Alfa-Pro twice a day with various supplements, as well as one flake of costal hay both morning and afternoon."
Even with all the mentors and family around him, training in preparation for his 4-H competitions allowed Kolton to push harder than he expected. He says "4-H has allowed me to expand and push my horses as well as push myself to the best of our abilities. It has also shown the importance of hard work and keeping on the grindstone to improve myself and my horses. This year I started to push my horses and expect more out of them. This allowed me to go into the arena with full confidence in how my horses were going to preform, and that allowed me to just go out and ride my horses with the trust in their abilities as well as my own."
This process not only taught Kolton what he could expect of himself, but what his horses were capable of. "I am blessed with good horses who are quick to learn with every practice, and I find myself having to adapt my training strategy to encourage their fast learning. Like everything in life, the more we practice, the more we learn. Not just for me as a rider, but for my horses as well." He continues "I've grown throughout this year's process. I had a wakeup call to what my horses were really capable of, and how it is MY responsibility to exhibit those abilities to their fullest.  It was also a very humbling experience to achieve something I worked so hard for, much less winning BOTH championships in the same year. It made me realize that hard work pays off no matter what and once you achieve something you thought impossible, your standards raise even higher. My new goal is to win both futurities again in 2021 as it will be my last year to show at the Texas State 4H Horse Show. That would really be something."
Kolton's talent, hard work, and professionalism will no doubt carry him to success throughout his life. He plans on attending West Texas A&M University and earn a degree in Equine Industry & Business. "I've been blessed to know and work with some the best equine professionals in our country, and I want to continue in this amazing way of life. After college, I plan to move back home to Post, Texas and ride colts for a living. It's what I'm good at."
Hi-Pro Feeds is proud to support the hard-working youth in agriculture, and wish Kolton Wink the best in his future. If you'd like to know more about our horse feeds, click here.