As a young girl, Kendyl Rust, 17 from Boerne, TX, started her livestock show career very sensibly, with pigs. However, in 4th grade she went to the home of a friend who was showing steers and spent and afternoon helping her in the barn. "I went home that day and told my dad 'We've got to get into this!'" she says, laughing.
That excitement and ambition set Kendyl, her father, and their family on a path that has led, not just to the winner's circle, but to a position of leadership and community in their county and beyond.
"At first it was just me and my dad figuring it out," she says, "we did OK, we weren't terrible, but we weren't excellent either." Her brother and sister also joined in on the endeavor. "Me and my brother Tucker, 15, learned together. My little sister Taygan, 12, had a mini-Hereford and she would tag along with us everywhere. She's a brave little booger, she started showing big steers really young!"
While the Rusts loved their work raising livestock, they weren't sure they were improving as much as they would like. Then, two years ago, they hired Travis Stenberg to help run their show barn. "He turned our whole barn around." Kendyl says "He taught us to be better showers in the ring, but he also taught us the little things about our calves that we should notice. Like how important their hair and skin are and especially how important the feed is."
The first task for Travis, was to change the feeding program. "He showed me a handful of what we were feeding before and a handful of the Hi-Pro feed and asked me what I noticed." says Kendyl "I saw right away it had a lot of stuff in it! He showed me the label and talked to me about the nutrition. He also had the rep talk to us, and they answered any questions we had. The Hi-Pro customer service has been amazing. It's been great." When asked if the transition to a new feed was difficult, she is emphatic "Not at all. Our calves love it. Sometimes when we would switch in the past, they were hard to switch. But my calves eat that stuff up!" The Rusts get their Show feed from their local store Strutty's Feed and Pet Supply in Boerne, where they've gotten the same great customer service and support as they found from Hi-Pro.
In addition to updating their nutrition program, Travis developed a winning routine for the family to follow. They have a cooling room, 40 degrees or so, that they designate for the Fort Worth and Denver shows because the calves in the cooling room grow more hair. "First thing in the morning we bring up the cooler calves, take care of their hair and put them in the cooler. Then we bring up our fan steers to the pens." Kendyl explains "Then we mix up the feed and put it all out. Around 5pm or so we kick out the pen calves and clean the pens. Then we kick out the cooler steers after dark and clean the cooler. Then it all starts over in the morning!"
She continues "Once they get bigger, we will start exercising them, but right now they are still babies, so they are jumping around and doing their little jazzy things. When they get bigger, we will start exercising them to keep their body condition in good shape."
Like most young women her age, Kendyl has many interests outside of livestock shows. She does livestock judging and Public Relations for FFA and is a 4-H Livestock ambassador. However, aside from raising steers, her favorite activity is the 4-H Skillathon "It's so cool. They test you on all kinds of things. For example, they give you a medicine label and you have to decide what and how to administer based on a fake scenario. It's so fun." She says.
With three kids, all showing steers, and all involved in other school and church activities,another task for Travis was organization. In the barn is abig white board with the days of the week separated into blocks of time throughout the day. "On Sunday we get all our schedules together and decide who will do what throughout the week." Kendyl explains "We help each other, and cover tasks and shifts for each other so that we can care for the animals but still do extra activities with school."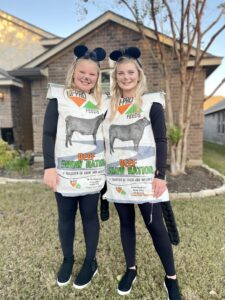 In this, the Rust family generosity also helps, because they share their barn with other members of their community. "The Bradley family have a daughter named Carson and they keep their steers here. We never have to miss one of my brother's football games because they look after our steers on Thursday nights, and in exchange we also help them when they have a family event. Dr. Dutton's sons both show steers that we keep here, and Travis' little boy is showing a mini-Hereford named Mr. Bubbles. It's so fun, like a little show community." Kendyl explains, proudly.
Kendyl's outgoing personality and passion for cattle extends beyond just the Rust show barn. She steps up to help any of her fellow livestock showers who may be struggling and takes pride in mentoring those younger than her, or who are just starting out. "We help people with their steers all the time" she says "One time I saw a girl from my county really struggling and offered to help. I said, 'Come on out to our place, let's take a look and see what we can do.'" she says, "Usually when people come out it's not as bad as they think. This cow? He kicked a dent in our gate! I'm really proud that despite the difficulty we were able to help her out, and she did great at her next show."
While the Rusts have won many livestock shows, and are very proud of their hard work, for Kendyl it's all about the animals. "I love cows." She says "I know it sounds silly, but I love the steers. They are all different, and it's so interesting getting to know them and watching them grow. Some of them are little brats and getting kicked by a baby is a good reminder to be careful. But by the time they grow up, they've learned to behave and that's when it's really fun." She and her sister have even bred a cow together using AI, with the help of Dr. Dutton, and are very excited to watch her calve soon.
When asked what she finds most challenging about raising and showing livestock, Kendyl gets stumped. After thinking for a moment, she says "I can't even think of something being challenging. There's always someone there to help. From the Bradleys to Dr. Dutton, Travis and my siblings…I've never had to worry because we all hold each other up and help each other succeed. More importantly, although there are many hands that help us, we know our gifts come from the Lord. Without Him none of this would be possible."
Hi-Pro Feeds is proud to support agriculture's future leaders, and wish everyone at Rust Show Cattle the best of luck at future livestock shows. If you want to know more about our show feeds, click here.