A child born to a 100-year legacy of farming and ranching, Keith Terry was born and raised in Comanche County, Texas. At the age of 11, his parents divorced, and he moved up to Oklahoma. It was there that he was introduced to Hi-Pro Feeds….in a very unusual way.
"Back then, Friona was the only place you could get Hi-Pro Feed" he explains "So we had a local guy who would drive an 18-wheeler to Friona, TX, fill it with Hi-Pro Feeds and drive it back to Southwest Oklahoma. He'd park that 18-wheeler, and all the kids in the area would just go get what we needed. He'd send us a bill, and we'd send him a check. It was because of him that all us kids were able to feed Hi-Pro to our show projects."
Keith heard about Hi-Pro Show Feeds from a family friend, Mr. Horn. "I was real close with that family, I went everywhere with them. Larry Horn gave me my nickname, Meatball." He says, laughing "Mr. Horn said feed Hi-Pro Feeds, so that's what I did!"
These experiences, and his success in the show ring, started a decades long relationship with show cattle and Hi-Pro Show Feeds. "Eventually I moved back to Texas and ended up having the champion Hereford in Houston." He says proudly. "I was very successful, and after high school when I went to work on a feed lot, I kept buying and selling show cattle to families in my spare time. I'd help care for their cows and teach their kids about their projects. I'm still doing it to this day."
He also teaches the kids the benefits of a great feeding program. "That Hi-Pro Show feed, still to this day, is identical to what it was when I was a kid." He says "The ration has not changed. I open that bag and it looks like it did when I was a kid. It worked then, and it works to this day. That's why so many people feed it, the consistency. And it works on various kinds of cattle. That's what's so awesome about it. Their feed just works."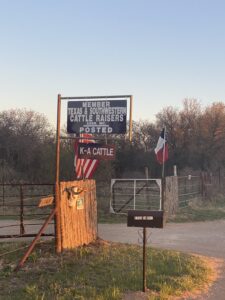 These days, Keith and his proteges don't have to run up to a truck, they go to Comanche for their Hi-Pro feed. A legacy of 27 years, Keith Terry's office walls at Lawrence Hall Chevrolet in Anson are covered with photos of young ag students and their winning show cattle. When describing his work, it's hard to tell if he loves the families or the animals more. "I love the work of taking one of my own cows, breeding it to a bull, and seeing how good you can make them. I really enjoy that." He says "I go to as many shows as I can. I consider those cows to be my babies. You live with the cows so much they feel like part of your family. I love to give them to a family and watch them grow and succeed in the show ring."
He continues "I tell this to anybody, but I'm very fortunate to be in the cattle business my whole life. I was lucky to have a knack for it, but I've had good people teaching me, and great feed. The cattle business has been good to me. Me and my wife April Terry run about 150 heifers and mama cows. And my parents also help with my cattle. It's a family-run business."
But at the end of the day, Keith says "I love the camaraderie and the people you meet at those shows. They are incredible people, and they still bless me today."
Hi-Pro Feeds is proud of its more than 50-year show feed legacy, and even more proud of the great community of ag teachers, breeders, and students who work so hard to learn and succeed. For more information on our show feeds, click here.