Family Tradition
Dane and Jennifer Driver come from a long family tradition of ranching and horsemanship. The Driver Ranch was homesteaded in 1878, making Dane a 6thgeneration Texas rancher. Dane's wife, Jennifer grew up on a central Texas ranch that is currently being operated by the fourth generation. They both came up through junior rodeo, and met in the rodeo program at Tarleton State University. Their daughter, Jordan Driver, inherited their love of horses, and ambition for winning. "She's got ranching genes," Jennifer says, smiling. "Living off the land is all Dane and I have ever known. It's in her blood."
At just 14 years old, Jordan has an impressive list of accomplishments. Among these, she qualified two horses for the RFDTV The American semi-finals, and won All-Around Cowgirl for the AJRA, WTRA, and TJHRA Region 2. This year she once again won the TJHRA Region 2 All-Around, and is qualified to compete at the State level in barrel racing, pole bending, breakaway roping, goat tying, team roping, and ribbon roping.
It's not hard to see where Jordan gets it from. Her mom, Jennifer won a national championship while at Tarleton. Since then, she has been inducted into the Tarleton Rodeo Hall of Fame. She competes yearly at the American Quarter Horse Association World Show, winning 2014 Reserve World Champion Amateur Pole Bender, 2015 and 2016 World Champion Amateur Pole Bender, and 2016 Bronze Champion Senior Pole Bender.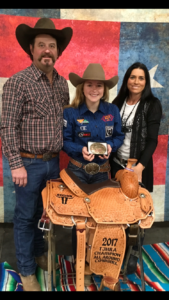 Focus and Training
Jordan, a sweet-natured teenager with focus and confidence beyond her years, also plays basketball, and runs track, and cross country at her school. "Every year we ask  her, 'Do you have to do everything?'" Jennifer laughs. "But we leave it up to her, if she wants to do it, we get her there." During the day while Jordan is at school, Jennifer works the horses, exercising them, and keeping them tuned. Then she picks Jordan up from school sports practice, and they get down to horse business.
"I'm a big believer in quality over quantity," Jennifer says. "She's got school, so if we've only got two hours to practice, we practice with a purpose. Jordan ropes on my calf horse and we laugh and say it's like going from a sedan to a Cadillac. She can rope 30 times on a practice horse, but once she's on her competition horse it's 5 or 6 runs. You practice right, and you practice to make yourself better because he already knows his job." Jennifer smiles, adding, "It's incredible to see how much she's grown these past couple of years once she set her mind to it."
Jordan's biggest learning came with a four-year old horse of her own to work. The horse was started by her mom, but they decided Jordan was big enough and ready to work on a young horse. "I've gotten so much better," says Jordan. "My competition horses have their spot. They know what to do. But when I take out my young horse, I have to learn that spot, keep it in my mind. I really have to be on top of things. It can be frustrating, because they can get so good… then hit rock bottom. You've got to bring them back up. They're just babies, and they don't always understand. You have to go through the motions all over again, and be consistent so they can keep it in their mind. It's really helping me to be a better rider."
Loving Partnerships
Jennifer and Jordan are not only bonded by the love for each other, but also by the love for their horses, and the sport. "It's so different from something like basketball," Jordan explains. "There you're with a team, but when you're working with a horse there's so much connection. When you make a run, you know they will give you all they have, and you can feel how hard they are trying. Sometimes I want them to win as much as me."
Jennifer agrees, "It's not just you, it's an animal and they're not robots. That bond you build means you know them, you know their personalities. They have their bad days too, and if you know them you feel it. But understanding them is what makes it so fun."
The Driver family provides a lot of care to their horses making sure they get to play as much as they work. "When the horses go to the rodeo, they have the same pressures as the kids," says Jennifer. "If we bring them home, and put that same kind of pressure on them, they get to where they don't want to do it anymore. Sometimes we'll take the rodeo horses out in the pasture just to check cows or something like that, and it's so fun to watch them. They are like little kids going to the water park on a day off. It's neat to see them relax their minds, and enjoy something different."
Feeding and Nutrition Program
Jennifer takes that same thoughtful touch and care with their horses' feeding and nutrition program. They have been Hi-Pro Feeds customers for the past three years. She took time to consider changing their feed.
"I don't like changing feeds. A lot of performance feeds will make a horse 'hot'," Jennifer explains. "At that time, Jordan was not as big as she is now, and I didn't want to put her on a hyperactive horse."
Eventually, after reading up on the US Hi-Pro Equine Performance Textured Feed, and discussing it with the sales representative, Jennifer decided to trial feed three horses on it.
"You could tell a difference within three days," Jordan says, excitedly.
Jennifer nods, "They were performing at a higher level, and their coats were pretty…there was no change in their personality. I admit that I was very skeptical, but those three we tried it on, the change was amazing. I have not had one horse that doesn't eat it. They love it."
For Jennifer, however, it's not just the performance horses that are important to her. "I have never sold a horse," she says smiling. "On the ranch growing up, if we bought a horse they ended up in our horse cemetery. I've had senior horses all my life. And it has always been a fight. It's hard enough seeing them go downhill and knowing the inevitable is coming, but to keep them looking and feeling good to the end is so hard."
After experiencing the success of Hi-Pro's Performance Textured feed, Jennifer decided to give the Senior Textured Feed a try on her older horses. "I tell you what, that feed is incredible!" Jennifer exclaims. "I have a 23-year-old who looks better than when we were running him. My 35-year-old mare, she started going downhill about the time we switched, but now she's almost fat. I couldn't believe the change, it's amazing. I am a huge advocate for Senior feed made by Hi-Pro Feeds."
Looking to the Future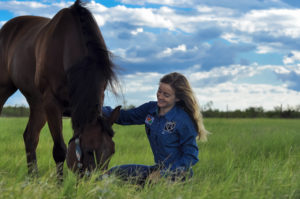 Jordan Driver has many years of learning and winning ahead, but for the most part keeps her eye on what's right in front of her. "This year, I really want to go to the  National Junior High Finals in Lebanon, TN, and then hopefully to the High School National Finals in Rock Springs , WY when I start high school next year," Jordan says. "We also want to try again and qualify for the RFDTV The American Semis. In a way, qualifying last year makes it harder because you know you were so successful then, and you want to do even better this year. You have to work even harder."
Jennifer Driver agrees, "It's a blessing and a curse. Of course we're thrilled, but now it's like let's take a deep breath and do it again! But we laugh, because this sport will really keep you humble. There's so many different factors that can affect you out there on a run, so much you can't control. At the same time it keeps you going. Even if one run doesn't work, that doesn't mean you won't be great at the next one. You're always trying to succeed. It gets in your blood, I guess."
Eventually, Jordan wants to attend Tarleton State University and rodeo, like her mom and dad. Rookie of the Year at the NFR is definitely in her sights, down the road. Jennifer and Dane Driver are ready to get her there, if she wants it. "We want to be there, and help her succeed," Jennifer says. "Once she's had an NFR of her own, Dane and I think it would be really fun for us to go on the road and try qualifying together. That would be really neat."
Hi-Pro Feeds is very proud of the Driver family and all their rodeo accomplishments. We wish them all the luck, and will be cheering from the grandstands.