The journey to realizing a lifelong dream is always one full of excitements, disappointments, heartbreaks, and joys.  From his start in Benjamin, Texas, Hunter Meinzer started working on area ranches starting colts 20-30 at a time, and advancing to training Eight Mile who broke the NCHA Futurity record for all-time best selling horse in 2014. Hunter's story is a roller coaster of highs, lows, and frustrations in between.
From the start, his education took place in the arena, working cutting horses in Texas, California, and North Carolina, all the while working his way from just starting colts to training them extensively for up to two years. Hunter mentions, "Back in the beginning I didn't know there was cutting or cow horses.  I just thought you tried to be a good hand with a horse.  Then I started reading more about it, and learned there were cutting horses and thought that'd be fun."
But it was his first NCHA Futurity that solidified his true calling. "Watching cutting horses at their peak level, the best of the best, and watching a horse win, it was so exhilarating.  Every year, it's exhilarating. When the whistle blows and you can't even hear it because people are screaming so loud," Hunter shakes his head, smiling into the distance. "I still can't imagine anything better than that.  And here I am 15 years later still trying to get there."
Over the course of his cutting horse education, Hunter Meinzer had the opportunity to work with, and learn from some of the best trainers there are. "I looked up to those guys for such a long time. They were my heroes, and I felt so fortunate to be working with them.  And it was so good for me, not just to learn from them, but to see that they have bad days just like everyone else.  They have days where nothing goes right, and they just have to compartmentalize it and focus on the horses and the work in front of them. It was so good for me to learn that everyone has the same problems," he says with a laugh.
A few years ago, Hunter broke out on his own, training and selling horses to the public. He continues saying, "I was fortunate to have three really good horses that I could show. One of them was Eight Mile, the record breaker. It made people sort of sit up and take notice, and now they trust me with their colts. That's where I've always wanted to be, to have the credibility where people give you that responsibility with their horses."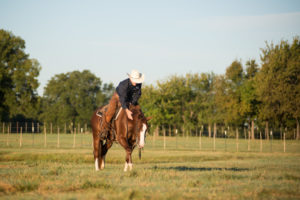 But people don't just come to Hunter Meinzer based on a few solid futurity horses. It's his consistency and willingness to go the extra mile. "I think it's because of the way I train. I really emphasize a good foundation, not just in the cutting pen, but general horsemanship. Anybody can have their horse zipping around and stopping hard, but are they comfortable doing it? That's where the top guys stand out, and that's where I'm proud of myself. Even though my horses are doing a lot more than most 2-year-olds are doing at that time of year, they are still comfortable. And that goes back to good general horsemanship. I don't mind putting in that extra effort because over time that's what takes them to another level," states Hunter.
"And it's not just about getting them broke," he continues. "It's about training them to think on their own with a cow, which is a whole other element. At the end of 12 to 14 months, if you've got them broke to where anybody can ride them, any style, and yet they are still thinking and initiating a stop or turn with a cow, and you can tell they are processing everything they need to be doing…that's a big accomplishment.  That's what I work toward every day."
Hunter Meinzer describes his training program as being consistent. This includes what he feeds his horses. He switched to the Hi-Pro Equine Feeds Performance Textured feed, and hasn't looked back since. He adds, "When it comes to the feed, the most important thing for me is the energy the horses get from it. Especially during the summer doldrums, those really hot days, they can get really dull and drag. But on the Performance feed I haven't lost any sharpness. And it's just like with a kid in school with a full stomach. They feel good, and they learn so much better. These horses show up focused, wanting to work with a bright look in their eye.  It's black and white as far as the difference. They look good, they feel good. Suddenly, I'll look up and it's July, but they feel like they usually do in October."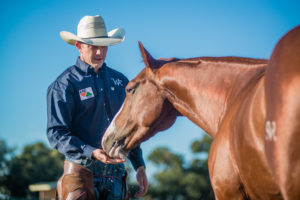 Meinzer pauses for a moment, "I mean, I'm a businessman, and I hesitated to spend the money on a premium feed. But actually my feed bill is lower than it's ever been. The quality of the feed is such that I don't have to feed as much, and it goes a lot further. It's unreal the difference."
After all these years, and all his accomplishments, Hunter's advice to others who may want to get into his business is surprisingly humble. He states, "Don't give up. I mean, there are days where I look back sometimes and wonder if I'd do it again knowing what I know now. There are just so many disappointments and it takes such hard work. When you talk to other trainers like Paul Hansma, Robert Wagner, or Johnny Mitchell, we all have that same thought, we all have those days where every one of us stop and wonder."
"It's just like with any passion," he continues. "When you have to start doing it for a living there's a lot of pressure and demands. This is a 7 day a week job, and that'll wear on anybody. The mental and physical demands can take a toll. But for anybody who wants to do what I do, you can't dwell on the disappointments, on the hard days. You take the hits, and you keep going because it's worth it in the end!"
And no one is harder on Hunter Meinzer than himself. "It's hard for me because I don't like making mistakes. But back when I was working for Paul Hansma or Robert Wagner, I was able to see that the best of the best are still making mistakes every day. That really influenced me knowing every single one of us goes through that, and there's no hiding from it. But you persevere, and you work at getting better. I still talk to Paul all the time. I call him up to ask for help," Hunter laughs. "Nine out of ten days are frustrating, but you keep going, you keep trying. And I'm fortunate to have had the success that I have, because now I have the confidence to know that I'll get it. Now I'm able to say to myself that it's okay, I'll get it tomorrow."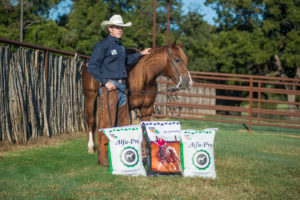 When asked what keeps him going, what is still exciting after 15 years, Hunter doesn't hesitate to answer, "It's the change. Just cracking into the young horses, and seeing what they've got. These colts have just run around as babies, and all they know is how to eat and drink. Now you're taking them to the point where they can think on their own and manipulate another animal. And some horses just don't have it. Cutting horses are extremely smart, but they also have to be disciplined, trained, and able to handle the pressures. On top of all that, they've got to have the physical characteristics, just like with athletes. You can have a kid who can jump and throw and run, but if they can't do the footwork, if they can't work with the team, if they don't show up ready to work, they won't get very far. Horses are like that."
Hunter mentions that sometimes horses just don't have what it takes. "Those are the bad days," he says. "There's so many variables that are outside of your control.  You put so much time into these horses. It's really crazy how, especially going into the NCHA Futurity, anything can happen. To put so much commitment and hard work into something, no one wants to go through all this, and end up last. Some days, that's what drives me. I don't like to fail."
What about the other days?  Hunter Meinzer wraps up articulating, "When you feel that change, those little breakthroughs, you can't always see it but you can feel it. That, more than anything, is what keeps me getting up in the morning. It's the neatest thing when you feel them change." He pauses for a moment, "And then there comes that day when you're at the Futurity and the gavel comes down on six figures."  Hunter laughs nodding his head, "That for sure makes it worth it too."
Photo credit: pixbypaige.com