In November, Hi-Pro Feeds employee volunteers located in Friona, Texas partnered with their local community to pack and send 80 gift bags for a battery of the United States armed forces serving in Kuwait. Hi-Pro employees and residents of Friona provided all of the donations. Varla Wilcox, Yolanda Robledo and Sharon Rector from Hi-Pro Feeds helped the local BIGS (Big Brothers and Big Sisters) and 4-H club prepare the gift bags and write notes to those serving their country. Wilcox, along with Gene Schueler, Lourdes Benevides, Rachel Douglas, Kody Kimbrough and Jacob Jones packed the bags in boxes for shipment overseas.
Varla Wilcox, US Promotions Coordinator and Customer Contact helped organize this initiative, and she believes it is imperative for Hi-Pro Feeds to be involved in projects like this. "It's important to be a part of the community in which we operate," said Wilcox. "This was also a neat opportunity for the BIGS kids. Many of them are less fortunate and they don't always get to participate in after school activities or initiatives like this. Some of them might have family members in the service, and we all think it's important to take care of our soldiers."
Hi-Pro Feeds identified this battery through a personal connection. Rachel Douglas, an employee located in Friona, has a son, Gavin, who is an active service member. He graduated from the local high school which helped garner additional support from the surrounding community.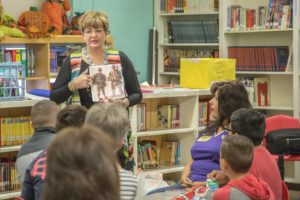 The gift bags were shipped by volunteers at the beginning of December, and are expected to arrive in Kuwait before the holiday season. The bags included basic toiletries, socks, books, snacks and postcards from the kids thanking them for their service.
The hope is that these gifts will make a difference to these soldiers serving, and being away from their families and homes at this time of the year. Hi-Pro Feeds is not only invested in animal nutrition, but proudly invested in local communities.
Want to see more Hi-Pro volunteers in the community? Click here.