On Sunday June 3, Hi-Pro Feeds employees were treated with a picturesque 80-degree day in the Texas Panhandle for the annual company picnic. A cool breeze kept everyone comfortable at Thompson Park in Amarillo, TX as employees and their families enjoyed good food, fellowship, friends and fun. The tradition of a picnic goes back decades, and is an event that many employees look forward to all year.
Employees brought friends and family with them to enjoy the day and meet their coworkers. Originally the picnic included a softball game, and a dinner with feed lot representatives. Over the years, however, it has become a picnic in Thompson Park in Amarillo, TX followed by an afternoon at nearby Wonderland Amusement Park. Brice Tabor, Hi-Pro nutritionist for the past 27 years, and his wife Debbie used to bring their children, and now get the pleasure of sharing the experience with their grandchildren. "They love it, they've been talking about it all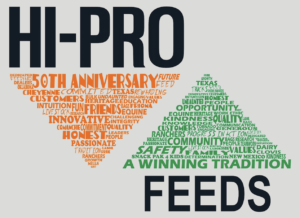 year," said Debbie.
Varla Wilcox, Dealer Promotions Coordinator, organized the event. Every year she has t-shirts made for attendees, and she wanted to make this year's shirt extra special. Varla asked employees to send her words that came to their mind when they thought about Hi-Pro Feeds. She then took those words and used them to form the Hi-Pro Feeds logo.
After 50 years in the feed business, Hi-Pro Feeds continues to be as devoted to their employees as they are to their customers. Hi-Pro Feeds looks forward to another 50 years of being invested in agriculture, community, and family.
Learn more about the Hi-Pro Feeds team here.