Extraordinary young men and women are up early, and out in the barns patiently feeding, exercising, and grooming their show animals. Year after year, cattle raised on the Hi-Pro Feeds Beef Show Ration have excelled in livestock shows all over Texas, Oklahoma, and New Mexico. This winning tradition goes all the way back to the very beginning of Hi-Pro Feeds in 1969, when the Beef Show Feed Ration was among the first products made and distributed by the company.
Judson Williamson, who has been with Hi-Pro Feeds for thirty years says, "I have some customers who fed our Show Feeds themselves, their kids fed our Show Feeds, and their grandkids."  The consistent success of the Beef Show Ration has built a legacy among those who have experienced raising a show animal and feeding the Hi-Pro Feeds product.
Connie Campbell is one such customer. Her family has been feeding the Beef Show Ration to their show steers for two generations. "Watching my kids show and feeding Hi-Pro, and then to see their kids show as well has been a really neat experience. We really never fed anything else after we started using the Beef Show Ration."
With both her children and her grandchildren having competed in the show ring, Connie has seen the benefits the experience brings to kids. "The leadership qualities and the  discipline they develop in themselves. They have to stay calm to handle situations to keep the animal calm. That's really important, and that behavior becomes a part of themselves," said Campbell. She also mentions the community aspect of showing adding, "The acquaintances they make in the show ring are great. It's such hard work, and the kids are exposed to such quality people."
Connie became affiliated with Hi-Pro Feeds in 1979, and was a feed dealer at Maci Feeds for 29 years. "Early on we brought Hi-Pro Feeds in to sell," she says. "People drive long distances to get the feed. We would have people from Galveston, Madisonville, and even Louisiana drive in to buy the Hi-Pro Feeds products."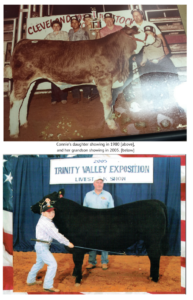 Connie also mentions, "Even when I could get a commercial cattleman to try the Show Feed, it always gives me a repeat customer. They love the performance of the product and the type of meat they get."
What is so special about these feeds? Brice Tabor, a member of the Hi-Pro Feeds formulation team, says, "First, it's a good basic proven formulation. Secondly, we work really hard at making it consistent, so that what you buy in the bag is always the same."
Judson agrees that this is an important aspect of the Beef Show Ration's success over the years. "Every bag you open, the feed looks and feels the same every time. You can predict how a steer is going to eat it and how it's going to finish."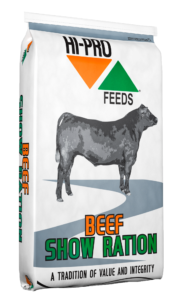 This diligence in the formulation of the feed makes not only the customers happy, but their cattle as well. "Animals will eat and stay on a feed that they know and like," Brice explains. "If you change the smell and taste of it, sometimes they'll turn away from it, but we've been able to keep a consistent texture and smell over the years and they really love it."
The Hi-Pro Feeds Beef Show Rations are top quality products that have performed well for over forty years; however, for Hi-Pro, it's not just about a product. Watching people excel in the show ring year after year brings together customers and employees alike. "It's still a family atmosphere with Hi-Pro Feeds," Connie says. "You know you're not just a number, you know you're working with people that care. They are all like family to me."
If you'd like to know more about Maci Feeds go to: www.macifeedandsupply.com
For more information on our show feeds, click here.