As regular readers will know, the previous blog discussed the supply and demand factors of the beef market, and how that can help us determine where a bottom might be for cattle markets.
The conclusion was that although supplies were heavy, demand was holding up and cash cattle and live cattle futures could be coming into some important lows.
What's new? Now the supply side is even heavier.
Coming into the Sep. 22 USDA cattle on feed report, most traders and analysts were looking for a 2-3% decline in feedlot placements for the month of August. Instead, the report provided a bearish surprise, pegging actual placements up 2.6% from the same month a year earlier. If accurate, the report suggests that more cattle than expected will be coming to market later this year and into early next year.
The cattle on feed report also coincided with what was considered a bearish U.S. cold storage report, one which showed total frozen beef supplies at the end of August at 476.2 million lbs, up 44 million lbs or 10% from a month earlier and the largest increase for the month of August in 15 years. As with the cattle on feed report, the cold storage report also easily exceeded pre-report trade guesses.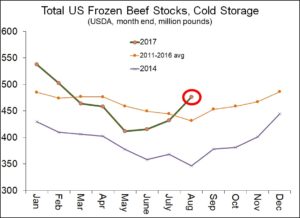 Cattle futures dropped on the bearish supply news, as shown by the red arrow on the chart below of the December live cattle future. However, the market managed to bounce a bit late last week, keeping intact an uptrend on some daily charts that goes back to the low made in August.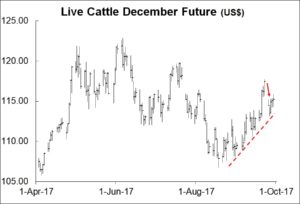 Meanwhile in Western Canada, cattle numbers are also starting to rise from last year's low level. As of Sep. 1, the on-feed count in the big cattle provinces of Alberta and Saskatchewan was up 5.3% or 30,500 head) from the previous year, according to data from CanFax. Indeed, both animals marketed by feedlots and animals placed on-feed have been above year ago levels for several consecutive months.
Given the bearish supply data, the question now becomes has the outlook changed?
The quick answer is no, our outlook has not materially changed.
Months of declines by fed cattle and beef prices appear to have done their job of stimulating additional consumption. Currently, most of the prices we track on either side of the border have stabilized or bounced a bit.
Recent posts have discussed the possibility the cattle market could be coming into some important lows like they were last year about this same time. Those lows for the cash market appear to be in place.
At the same time, larger total meat supplies could act as a damper on price recovery from fall 2017 to spring 2018 prices, as evidenced in the recent dip by premium-priced live cattle futures.
By Ranulf Glanville & Dave Milne, DePutter Publishing Ltd.
Explore our cattle feeds here.
Brought to you in partnership by: