Although relatively small, Ruidoso, New Mexico is a vibrant, eclectic community. Home to two ski resorts, a hotel and casino, and the famous All American Futurity Quarter Horse Race, it also lies near the Rio Hondo Land and Cattle Company. Not just a cattle ranch, it is also a popular hunting destination featuring deer, elk, turkey and more. Along with long-time residents, these attractions bring to town a diverse population of tourists year round.
Ruidoso is also home to Harvey's Feed & Supply, a family run store that manages to serve the unique needs of the community. As a family dream to run a feed store, Jeff and Robyn Harvey opened their doors in 2000. Originally housed in a 200 sq. ft. building, the business has grown steadily over the years.  Robyn credits their growth to customer service. The Harvey family also prides themselves on their hay business. Brought in from California and Arizona, Jeff is dedicated to only selling the highest quality hay.
"We take the time to know what we're selling, and what our customers need," Robyn says. "It's not just about a bag of feed on the store floor. We love to educate our customers on how to best take care of their animals. We want them to know why they are buying a feed and how to best feed it."
The Harvey's first started working with Hi-Pro Feeds in 2005. "We've always been pleased with not just our business relationship, but our personal relationships with Hi-Pro employees," Robyn mentions. "Our rep is always on top of things. Any questions, anything we need, he'll go find it for us. He's become a friend."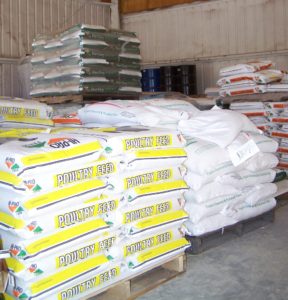 Harvey's Feed & Supply has worked hard with Hi-Pro Feeds to overcome unique challenges in the area. The forage and water sampling program discovered high levels of sulfur in the water, and a lack of natural roughage.
"Hi-Pro has put in hours and hours formulating feed for the livestock here studying the forage and water samples," Robyn says. "We appreciate that, because it really helps the ranchers and their operations."
These limitations don't just affect the ranching community. Tourists at the local resorts love to view and interact with the wildlife. Robyn explains, "The deer around here are really used to being around humans, but the lack of natural roughage means that if you feed only deer corn, the deer get sick. We want them to be fed what's good and healthy for them." Harvey's supplies the resorts and tourists with a custom formulated deer feed, most often the Magnum Pasture Deer Feed, and the Hi-Pro Deer Blocks. "The deer feed gets a lot of comments," she continues. "They go right to it and eat all of it. Customers really like that."
When looking to the future, Robyn speaks about expanding their pet business. "We get a lot of people in who have brought their dogs or cats with them on vacation. We put together gift baskets and they really like those."
Hi-Pro Feeds is proud to provide service to such a hard-working and caring community feed store. If you find yourself in Ruidoso, NM, stop in and say hi to the Harvey Family.
26551 US Hwy 70
Ruidoso Downs, NM
575-378-8750
Want to visit more of our dealers? Click here.