Like most accomplished horse men and women, Gatlin Duncan had humble beginnings in rural Texas, riding horses and working cattle with his dad outside the town of Mobeetie, TX. Years later, in 2018, he would win four Versatility Ranch Horse Championships to become the 2018 AQHA VRH World Champion with his horse Gray Hope Stik.
While Gatlin started out on horseback as a kid, his road to the Championship truly started at Texas Tech University where he majored in Natural Resource Management with a minor in Animal Science. "I tried out for the ranch horse team and started with them in the Spring of 2014. I didn't know anything at the time, I just tried out. It was quite an adventure!" Gatlin says "I learned a lot."
Learning a lot involved, for Gatlin, quite a few humbling experiences in the beginning. "I didn't have much luck at first, but I got a lot of experience. It wasn't until my senior year that I started to do well." He won the Novice Division at the national show that year. After Gatlin graduated, he got a job at Clarendon College as the Assistant Rodeo and Ranch Horse Coach. "That's when I got Stik." Gatlin explains "I bought him in the middle of his four-year-old year. After working with him for a while, getting him used to my own style, I started showing him a little more. We won the American Stock Horse Association Finals in the Cowboy Division in 2016, and the Tech team won Nationals. That got me excited to branch out into more divisions. I really wanted us to stretch ourselves, and learn as much as we could. Than we won the RHAA Senior division this last May and qualified for the Versatility World Show in Amarillo. That's where we were before the AQHA Worlds and I just figured we'd give it a whirl and see what happens."
That whirl earned them the Cowboy World Championship. Gatlin says he wasn't too nervous going in. "I felt pretty good going in, because I've been riding him 3 years now and he's built a lot of confidence in me. Once you've been winning a little bit, you get more confident. He's a good horse, and we've worked well together, so I felt good that day. I showed at the Ranching Heritage, too, and we ended up winning the Limited Open 5 and 6 year olds and 3rd in the Cowboy."
When asked how he managed to accomplish so much in a relatively short period, Gatlin mentions the support of his wife. "My wife is really great to stick through it all with me and support my dreams. She goes to all my competitions. She has a mobile clothing boutique called Lula Roe, and works from home so it works out great because she can go with us when we travel and bring our 16-month-old son."  His work at Clarendon College helps, too. "My schedule at the college works well with training. We maintain the facilities, work our own horses, and help the kids train. It sure gets my horses broke being with all these college kids running around, that's for sure!" he says, chuckling.
Along with the support of family and community, Gatlin's success is bolstered by a great nutrition program. "I've used Hi-Pro Feeds for a long time. I'd have to say that Alfa-Pro is my go-to feed. It's convenient and great quality. But I'm also looking at moving into a higher fat ration such as the Performance Textured feed when I start working with my three-year-old and getting her ready for showing. That higher fat really helps her energy and stamina, especially in the summer. The heat can be really hard on them, and that feed gives them the energy to keep going."
Gatlin gets his horse feed from long-time Hi-Pro dealer Cornell's Country Store in Clarendon. "They are really good folks over there."
Though excited with his current accomplishments, Gatlin has many plans for the future. "Stik has been a great horse, but I've really wanted to get one that I can crack into from the beginning. A two-year-old, you've got to work them up from the bottom, but they are in your program and learn your ways from the start." This year, Gatlin plans to start showing his three-year-old mare. "This is my first horse I've started at ground zero, so I'm very excited to see how things go."
He also mentions the drive that keeps him going "You always want to get better at anything you do. You're never going to have a perfect run, but you want a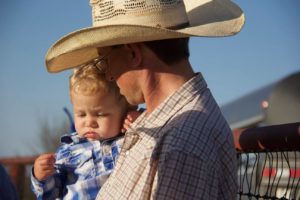 perfect run, so you keep going. And every show will show you what holes you have, so you'll come back and fill those holes and try again at the next show, where you find another hole and keep that process going. Then when it finally does click, it feels really good. I'm always looking for that feeling when they lay down on a cow and they're listening to you. It's just really fun. It gets in you!" That drive goes into both competition and training. When talking about his mare, he mentions, "I've already got a plan for my next one. I've seen some places I could have done better, so I'm excited to start another one and improve my program."
Of course, for Gatlin, family is a huge part of his future plans. "My son, he's a live wire, I can't wait to get him started. He really likes getting up there with me. One of my goals is to start a horse, train it up from scratch, that my son can start riding on. That would be really neat."
Hi-Pro Feeds is proud to support Gatlin Duncan in his success, and wish him the best of luck in the future.
Top photo courtesy of Devin Sisk Photography.