Fred Danley has spent his life with race horses. Growing up the son of horse trainer Ike Danley, he started training full-time at 16 years old. Just three years later, at 19, he became the youngest trainer to ever win the Kansas Futurity.
Now 74, Fred is still training champions. He runs Danley 4D Racing, and has anywhere from 30 to 60 horses on the track at any time. The Danley family has about a dozen of which are their own horses. After 56 years of training full-time, Fred can evaluate horses with the eye of an elite professional sports scout. "Sometimes they can run hard, not make a single mistake, but end up dead last. Sometimes, they just don't have the talent," states Fred.
Common wisdom says that talent is built into the genetics of a champion bloodline, but Fred disagrees. "Talent can come from anywhere." Fred shakes his head and chuckles. He adds, "There would be a lot fewer horse sales if you could see the heart of them."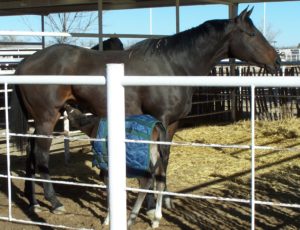 For Fred, that's the passion of training race horses, and he goes on to say, "Bringing the babies up and seeing what you have. That's the most interesting part because you can't see the heart of them…you have to find it."
It's the heart that Danley describes immediately when talking about some of his favorite horses. He goes on to say, "Happy Hennessy is running real well for us right now. There's not a lot of speed there, but he's honest. He doesn't stop. When the speed horses wind down, he keeps going."
His all-time favorite horse wasn't one of his own. He trained Gotta Get for a client who went on to win seven stakes in a row with J. J. Gonzales as the jockey. "That horse was a class act. He was business all the way," states Danley. "Now, he's retired from running and working as a trail horse. They say he's no trouble at all. They can put anybody on him, and they feel safe."
What sets Fred Danley apart from other trainers is his clear unfailing respect for the heart of every horse, even those that other trainers might consider a disappointment. One such horse, a 15 hands tall quarter horse named Duck, has an incredible pedigree that should have ensured him as a force to be reckoned with in the racing world. Fred smiles with genuine affection when describing Duck. "That horse couldn't outrun me afoot!" he says laughing. "He just didn't want to be a race horse." Not to be deterred by a heart that beats to its own drum, Fred and his assistant trainer Emilio continued working with him, and discovered that his size and temperament made him a perfect saddle horse. Now a vital member of the Danley 4D Racing team, Duck escorts the race horses down to the track, and through their warm up, and keeping them calm as they gear up for a race.
As with any equine athlete, heart and talent are only part of the equation for success. "When evaluating a race horse, you've got to watch them travel, how their back feet move. I like a horse with a long hip and deep shoulders. If I have to give up anything, I'd give up shoulder first and hip last. That weight on the back end gives them push, and they've got to travel straight," Fred states wisely.
When it comes to the training, Fred stresses patience. From birth to seven months, Danley and his team halter break the colts, and wait for them to be a year before he starts training them to run on the track. He introduces the horses to real races once they are 2-years-old.
"Some people are impatient, and they push the colts into racing before they've matured. But it takes time for them to reach their potential. It's always worth it to wait, and give them the time they need," concludes Fred.
Finally, completing the Danley formula for an elite champion is nutrition. "I put more emphasis on nutrition than genetics," states Fred. "You have to feed them right. Half of the horses at sales are missing something, and it's usually a lack of good, consistent nutrition."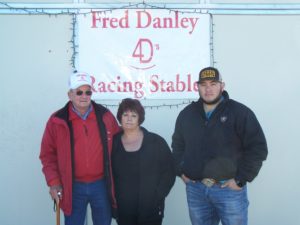 Danley 4D Racing has been feeding the premium Race Textured Feed manufactured by Hi-Pro Feeds for the past three years. Emilio noticed a difference right away, and says  that, "The horses ate all of it. Not one of them left any feed behind, and they started working harder. Within a couple of weeks they were totally different. They were lively, jump ready and had great energy. Their hair laid down in three weeks. They performed better on the Hi-Pro Race Feed across the board."
Fred Danley and Danley 4D Racing have an impressive championship history that isn't slowing down any time soon. Emilio goes on to say, "There's nothing like this in the world."
Fred agrees smiling, "I still get excited about the big races. If I lose that, I'll be dead."
Hi-Pro Feeds is proud to be part of Fred Danley's extraordinary training operation. We wish him luck on his continuing journey, finding the hearts of champions.
For more information on Fred Danley and his horses, click here.