Farm income numbers in both the U.S. and Canada appear to be providing further reason for American cattle producers to throttle back on expansion, and for those in Canada to maintain the status quo.
A Statistics Canada farm income report released Nov. 24 pegged Canadian cattle and calf receipts through the first three quarters of this year (January-September) at C$6.34 billion, a 2.8% drop from the same period a year earlier and down sharply from the $7.58 billion cattle producers raked in through the first three quarters of a much more buoyant 2015.
The decline in cattle receipts becomes even more stark when one considers that Canadian hog receipts through the first three quarters of this year were up 7.6% or $245 million from a year earlier to $3.21 billion.
While an increase in the number of hogs marketed during the third quarter (+1.8%) certainly helped to bump hog receipts higher, it's worth noting that prices were 5.7% higher as well.
In contrast, StatsCan reported a nearly 4% decline in Canadian cattle prices, as a larger domestic slaughter was more than offset by a drop in the number and value of animals shipped into the U.S.
Canadian cattle numbers as of July 1 have basically remained unchanged for the past three years, creeping up just 0.1% in 2017. Given the farm income numbers, it's easy to understand the reluctance of producers to expand their operations – you simply don't get bigger when you're not making much or even losing money.
Amongst the provinces, Manitoba was particularly hard hit, with cattle and calf receipts down almost 20% through the first three quarters of this year. Saskatchewan receipts were off by nearly 10%.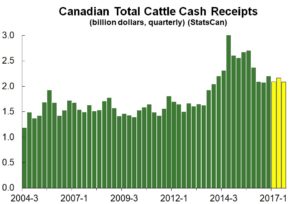 US profitability declining too
Meanwhile, the same dynamic appears to be overspreading the American cattle industry as well. In its August farm income forecast, the USDA projected that 2017 returns for cattle and calves would increase 5.7% or US$3.6 billion from a year earlier. However, all of that expected gain is expected to come via an increase in the number of animals that are marketed, versus a decline in actual prices.
On the other hand, the USDA forecast a 15% increase in broiler cash receipts for 2017, a 14.6% increase in hog receipts and an 11.1% increase in milk returns – all due to anticipated higher prices.
U.S. cattle inventory reports have shown annual increases of between 2-3% over the past couple of years – resulting in today's larger beef supply – and the latest report, released in August, put the American herd as of July 1, 2017 at about 103 million head, a significant 4% increase over two years ago.
But with prices cooling, there are signs U.S. producers may be souring on expansion as well. The year to date steer and heifer slaughter south of the border is up 5.5% from a year earlier, with steer slaughter up only 2.5% versus a 12% increase in the heifer slaughter.
The disparity suggests producers are now sending more females to market, rather than holding them back for breeding and future expansion.
Prices likely to remain subdued
In the immediate-term, there doesn't appear to be much that might change the overall profitability picture for North American producers.
With all of those extra cattle in the U.S., beef supplies are likely high enough to prevent the cash market from doing much over the next few weeks. At the same time, corn prices are low enough to provide further incentive for cattle producers to keep on adding weight to their animals – resulting in heavier carcass weights and still more beef.
Finally, data on US weekly export sales of beef released Nov. 24 came in below expectations. Although the overall pace of exports thus far in 2017 has been brisk, if the disappointing data out today is the start of a trend we could be headed for a short-term slowdown in demand. That would further strengthen the case for a deeper dip by the cash market the next few weeks.
Brought to you in partnership by: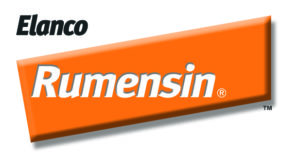 See our cattle feed here.