Who's the lovely lady on the new Hi-Pro Equine Feeds Classic Gold bag? Well look no further for the answer.  We are proud to introduce to you, Jackie Ganter and her horse, Cartel's Fame. Jackie is a very successful barrel racer currently running for rookie of the year in the WPRA. She is currently sitting 15th in the world standings, which is a very worthy accomplishment considering she just finished high school this past spring.
Among her many accomplishments, Jackie was the 2014 BBR World Champion, WPRA Junior World Champion, and All American Youth Champion. Jackie is from Abilene, Texas and has grown up around horses all of her life. "I love horses," states Ganter. "They've been part of my entire life, and I live to be around them. I also like that even though the horse industry is large, everyone knows everyone, and it's like a family. You have friends everywhere, and it's a good bunch of people."
We grabbed this photo of Jackie and her horse during one of her quick stops on the rodeo circuit. Jackie focuses on making sure her horses are getting the best nutrition, and that they are eating well on the road. This photo symbolizes the partnership, and teamwork that cowboys and cowgirls have with their horses. Hi-Pro Feeds believes strongly in these values, and wanted to showcase this photo on the new Classic Gold textured feed bag.
At a young age, Jackie started competing in English jumping and dressage, but at the age of 12 decided she wanted to race barrels.  Well, she hasn't looked back, and is well on her way to achieving her goal of winning Rookie of the Year for 2015.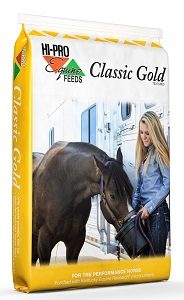 Jackie is feeding her horses the Hi-Pro Performance textured feed (black bag).  "We've been using it for about two years, and I've won the most I've ever won the past year and a half," she says. "There's physical proof of how good my horses run.  I can honestly say that every single one of my horses is running strong, and that comes directly from the feed."
Before, Jackie had been feeding another horse feed product, and when she switched she saw the differences in her horses immediately. "Blazin' Baby J looked and felt better. We loved the results, and ended up switching all of our horses to it. I keep 4 to 5 horses with me at all times, and they are all on it.  A big issue on the road is that some horses don't want to eat their feed, but with Hi-Pro, they like it and want to eat it. The road is hard, but they are all healthy and happy," says Jackie.
There is no doubt that this classy lady is an inspiration to others in the horse industry, especially the younger girls running barrels. Thanks Jackie for allowing us to share you and your horse on our Classic Gold bag. Hi-Pro Feeds is constantly focused on making feed that 'works as hard as you do', and there is no question that we are your biggest fans!
For more information on Classic Gold textured feed, click here.
Want to read more about Jackie Ganter?
Jackie Ganter's Pursuit of Making Dreams Come True
Behind the Scenes at the WNFR with 2015 Rookie-of-the-Year Barrel Racer – Jackie Ganter
Jackie Ganter looks to cap successful 2016 season with a strong showing at the 2016 Wrangler National Finals Rodeo