That family legacy, seven generations long, extends to the community. When she and her brother were starting out, they had help from friends, her ag teachers, breeders and members of her local FFA chapter. Claire, however, mentions a truly special relationship that supports her "One group in my community that supports me so much is my feed store, Strutty's. They carry whatever I need, are always there on auction day, and make arrangements to get Hi-Pro Show Feeds to me here in Central Texas." She says, "They have supported me so much."
Claire also notes that, throughout Covid, her community worked hard to make sure as many shows as possible could continue operating.
Over the years of showing both goats and cattle, Claire has definitely declared cattle her favorite. "I really feel like I connect more with them. The show cattle community is also amazing. The connections and bonds I've made with, not just my animals, but other cattle families are so important to me."
When they started with cattle, her breeders Leighton and Lacey Robbins recommended Hi-Pro Show feeds and the've been feeding it ever since. "It's always fresh, and it's complete. It provides everything that my cattle need and gives them constant nutrition in every bag." She says "I know that, personally, even during shows people come up to us and ask what we are feeding because they notice the difference in the texture and ingredients."
In addition to top-notch nutrition, Claire's routine involves daily grooming, rinsing or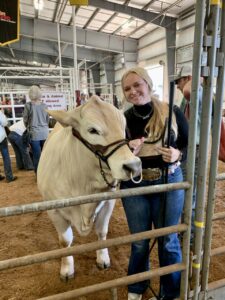 washing to keep them cool and clean, and in the evenings, she exercises them and practices for the show ring.
All that work happens alongside many activities including shooting sports, milk judging, and land judging. One of her favorite activities, however, involves giving back to the community that has given her so much. "I'm a county ambassador for 4-H." She says "I'm also a Special Hearts Livestock Ambassador. The Special Hearts program lets kids with disabilities experience what it's like to care for & show animals. I like getting out and getting to know people and showing everyone about 4-H is all about."
All that work and passion paid off. This past year Claire & her heifer, Cupcake, won: Champion Exotic Heifer at The Grandstand district show and Grand Champion Heifer at the Comal County Junior Livestock Show.
As for the future, Claire is going to show her steers and heifers again next year. In spite of a failed birth in her first breeding year, she is going to continue breeding, and is very excited that her heifer, Pearl, had a healthy calf named Shiner on April 2nd.
Her family legacy and her years of showing have instilled in Claire a true love of animals. She is looking forward to exploring a career in animal science in college.
Hi-Pro Feeds is proud to support hard working youth in agriculture. For more information on our Show Feeds, click here.