Seventeen-year-old Brooklyn Buckingham of Wheeler, TX certainly knows what it is to be busy. "Coming from a small school, I am involved in almost everything." She says, "From Basketball to Cross Country, sports are a big part of my life." Not the only part, however.
"My love for animals made showing the perfect activity for me." She explains "I started showing when I was in third grade, so with this being my senior year I will have showed for 10 years.  I started out showing pigs when I was in third grade because I was not the biggest and my parents weren't so sure a steer was the best to start out with.  After showing pigs for 3 years, I decided it was time to show cattle."
Brooklyn's father showed cattle when he was growing up, so she was excited to continue the tradition. There was a learning curve, but friends and her community stepped up to help. "One of my dad's friends named Ritchie Kiker played a major role in my success. " she says, "He helped pick out my steers and made sure they have the winning qualities. He would stop by and make sure they were looking good and eating the right amount and the right kind of feed.  I also had the support of local business and people giving donations to help me have a successful show year."
Moving from pigs to steers was quite a jump for Brooklyn. "Raising a steer is lots of work.  Until you raise one yourself you do not realize how much time and work they take each day. I'd tie them up, blow them out and let them stand or rinse them each day. Then I'd feed them Hi-Pro 290. We also would use the Hi-Pro Finisher and Starter.  I love the way Hi-Pro makes the steers look.  It gives them a full appearance and makes them look fresh.  I would say Hi-Pro feed is a major part in my steer's success.  We also try to walk the steers every day or every other day to get them prepared for shows. The more time you spend with them the better they will act."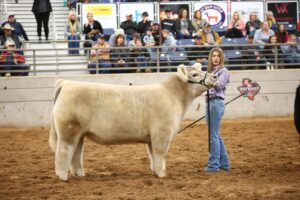 All that work taking care of steers is difficult for anyone, but for this ambitious athlete…it was even more difficult. "We have practice almost every day, so it is always a struggle trying to find enough time to work with the steers." Brooklyn explains "Once I finish practice I go straight to the barn and start working with my steers. This is the only way it is possible to get all the work done. Some nights I do not walk into the house until 10 or 11.  It is not always the easiest, especially on the nights you have lots of homework, but with hard work and dedication you can get it done."
For Brooklyn, it is all worth it in the end. She talks at length about the supportive friends she's made, the skills she's learned, and the opportunities that she has been able to take advantage of with her showing. She also loves the feeling of peace she gets in the barn "When you have had a long day it gives me a place to relax and just listen to music and get the steers washed."
It was all those advantages and positive experiences that convinced Brooklyn and her family to take a chance on buying a steer, despite Covid closures. "We purchased my steer from Goretska Show Steers out of Abilene, Texas.  Tracy Goretska sold us this amazing steer, and throughout the process he was always willing to help us out and teach us new tricks on how to make the steer look better." Brooklyn says "We bought this steer because it really stood out to us the day we went and looked at them. It had all the characteristics we look for when buying a steer. It also had a great personality and already happened to be halter broke."
Despite the uncertainty of a worldwide pandemic, Brooklyn persevered and learned some important life lessons. She explains "Without being in school and everything being cancelled, this gave me lots of time to spend in the barn. I would spend all my time out there working with the steers to make them the very best. When the first jackpot was announced after everything was cancelled it was such a relief to be able to go do what I love. This whole experience showed me to not take time for granted and try to make the most out of all of it.  if you are given the chance to go to a jackpot or show, you need to go because you really do not know when or if you'll have the chance to go to another one."
Brooklyn's family agreed and were happy to get her where she needed to go. "I love going to shows and jackpots." She says "We try to go to every jackpot that is within a reasonable distance from our house. We once went to 3 jackpots in 2 days and won all of them!"
But even the most accomplished show veterans can still get hit with nerves. "When it was time for the show that really mattered, which was The Patriot (the alternative for the Fort Worth Stock show), I became a little nervous." She explains "I was scared because after all the work, time, and feed I put into this steer I wanted it to do well and make the sale. The pressure at this show was a little overwhelming.  After winning many jackpots and the county show, everyone expected this steer to do well."
But all her hard work and dedication paid off in the end "We ended up coming away with a reserve division title!" she says "I never would have thought I ever would have done so well. The feeling of winning is so hard to explain. It just gives you such a happy feeling after all the hours and time you spend working with your steer it finally pays off."
Brooklyn Buckingham is a very accomplished young lady. Heading into her senior year, she still plans on showing steers and playing sports. After, she will attend Texas Tech and study Agriculture.
Hi-Pro Feeds is proud to support enterprising youth in ag! For more information on our show products, click here.