Brock Veterinary Clinic, a mixed animal practice in Lamesa, Texas has established itself as a go-to equine clinic in the region by providing exceptional equine care through routine exams, specialty surgical practices and trusted feeding programs. The team of veterinarians and technicians share a passion for helping animals live healthy, happy lives and they are not afraid to explore new products and techniques in order to provide the best service they can.
Established in 1992, through Dr. Bo Brock's passion and hard work it has grown into one of the busiest equine practices in the area, seeing approximately 10,000 horses per year.  Even though Brock Veterinary Clinic is located in a small town, it is close to several larger cities including Midland, Lubbock, and Big Spring.  "Dr. Brock is a small town veterinarian who provides services that aren't offered by many in the area," said Dr. McElwee, a veterinarian at the clinic for the past nine years. "We get referrals from about a three hour radius.  The clinic often sees horses that receive primary care in their own town, but need a specialized service that we offer."  These specialized offerings include colic and orthoscopic surgeries, equine dentistry and top-of-the-line diagnostic equipment.
There are anywhere between 30 to 50 patients in the clinic at any one time.  The Brock Equine Center treats horses from every walk of life; champion race horses, barrel racing stars, dressage competitors, trail riders, and everything in between.  "Maintaining this type of volume in a small town practice requires a team effort," explained Dr. McElwee. "We have a large support staff including veterinary technicians who have been with us a long time as well as interns and students studying with Dr. Brock."
What helps set Brock Veterinary Clinic apart is their dedication to maintaining high-end equine medicine services without compromising on small-town customer relationships with other vets and horse owners.  "Top level diagnostics and services provided to people, but keeping it simple for them so they understand what is going on." explains Dustin.  This ensures the owners and caretakers are best prepared to assist in the animal's recovery or long-term care.
Recently, Dr. McElwee and the team at Brock Vet had the opportunity to treat, and save, a very special horse: his daughter's. "My oldest two kids are doing play days, barrels, poles and goat tying, and along with that comes a small herd of geriatric horses that you can trust to protect your kids and not run off with them," recalls McElwee. "About a year ago, I treated my daughter's horse. He was 30 at the time, and had a debilitating internal infection in his liver that made him severely ill. He nearly died a half dozen times, but he's quite a miraculous beast!"
Though he survived the illness the horse had been sick for so long that he was emaciated and debilitated.   "I was looking for a highly digestible feed that the horses would eat readily, and it needed to be cost efficient as well because he needed so much of it." Dr. McElwee says.  "Alfa-Pro really fit that bill.  To see that horse live through that ordeal, bounce back, and look better than he did before getting sick was really something."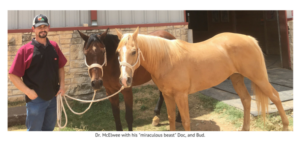 The feed worked so well for his own horse, that Dr. McElwee started providing it at the clinic. .  "Any special dietary needs for horses with teeth problems, the Alfa-Pro pellets digest really easy, and they break down nicely into a mash.  We do that for post-op colics or dentistry recovery.  It's just been really useful in a wide variety of situations."
The team also consulted with Dr. Chris Morrow, who helped develop Alfa-Pro.  "Dr. Morrow is a friend of ours and we collaborate with him often, so we trusted his research and the feeding trials he had done.  We discussed the feed with him on multiple occasions and felt like it was a good product for keeping horses happy and healthy."
Keeping horses content and in good physical shape remains essential to the Brock Equine Centre. Sharing Dr. Brock's passion to deliver high quality care with exemplary customer service has allowed a small-town clinic to gain regional recognition as the place to be for specialized equine services.
"You know, people told me when I moved here that the scenery wasn't much but the people were great," said McElwee grinning. "And the people of West Texas are really the salt of the earth type folks and that's what I love best about working here. We get to meet some incredible people and work with some exceptional equine athletes. It's great to be a part of the team that keeps them going. Also, for me, it's important to take care of the animals that take care of your kids. Horses are extraordinary creatures."
Want to visit more of our dealers? Click here.